FMO Consulting: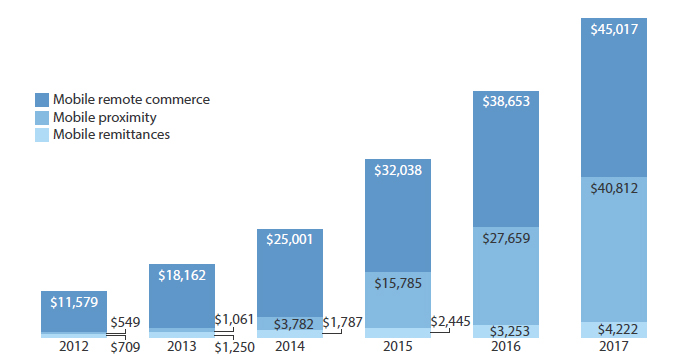 As the digital and mobile commerce revolution continues its onward journey of disruption, business in Australia need to embrace innovative mobile payment solutions to remain ahead of the game.  Despite the focus on converting point-of-sale transactions to the mobile medium, there seems to be a lack of suitable mobile solutions that cater to the remote payments environment.
Why Mobile?
'Mobile payments' and 'mobile wallets' are very common buzzwords often splashed around in the press over the last few years.  With several local announcements like ApplePay, Facebook payments etc. one is led to believe these innovations define 2015, yet most are probably lagging 10 years behind.
Mobile phones have been around for over 4 decades.  Products such as Google wallet, V.me, have been around since 2011 while the M-Pesa wallet in Kenya is just over 8 years old.  So what has stopped this innovation arriving and prospering in Australia?
Consumers and Merchants have seen little incentive from embracing innovative mobile financial services simply because of the lack of a systematic ecosystem of services providers, banks and solution vendors who are able to provide a unified and frictionless payment experience.  Product launches are usually fragmented with banks building services that only benefit their own customers.  Likewise merchants will only build applications to retain their existing customer base or simply utilise the mobile channel for marketing and loyalty programmes.
So why are government departments and large corporate billers slow to board the mobile payment train too?  Could it be because they are not sure where exactly the train is headed or is it because there aren't too many passengers on-board!?
The Mobile money economy
Globally, mobile wallets and payment solutions have seen accelerated adoption from launch because they inherently filled infrastructure gaps that didn't exist in those countries.  According to the GSMA, active mobile money accounts are up to 103 million users from 71 million in 2013.  255 mobile money services are in operation across 89 countries across the globe.
M-Pesa filled a huge market need for the un-banked population to carry out basic financial services like sending money 'home'.  Initially started off as a pilot to allow farmers to settle micro-loan payments, it quickly evolved into a 'mobile bank' where consumers stored e-money in their wallets and used it to trade and make payments based on the stored value of the account.
On the flip-side, Australia has the unique proposition of a heavily over-banked population that is housed around urban cities with a superior banking ecosystem.  Australia has also invested heavily (time and resources) in developing a strong contact-less infrastructure making it the biggest such market in the world.
The use of m-commerce services in Australia is soaring—during December 2013, 3.4 million Aussies used an m-commerce service, up from 0.62 million during December 2010. That's an increase of 448 per cent.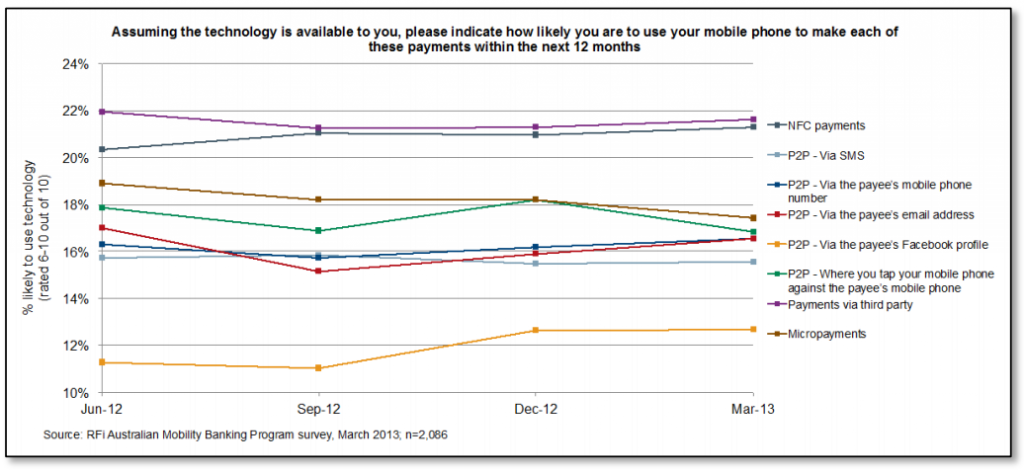 Australians still prefer to use selective technology for bill payments with some renewed interest in P2P payments and the next evolution to contactless payments – NFC.  Upto 30% of Australians use the mobile device for shopping online and over half of these continue to do so on a monthly basis. Almost all the major retailers and merchant are currently "mobile-enabled" and offer in-app purchases from random things like insurance renewals, groceries, and order-ahead coffee.
The fastest growing age demographic of users who have conducted a mobile commerce transaction is the 25-34 year age group.  Developing mobile services for this demographic now is critical as the prosperity and spend of this group will continue to demand ever more mobile-centric solutions.
So which segments are likely to benefit from this unstoppable wave of mobile usage in Australia?
Beneficiaries from Mobile access in Australia
There is no doubt that mobility driven solutions are here to stay and are set to revolutionise the way Australian businesses operate.  But how about breaking this down into the industries that could benefit from mobile payments within Australia.  There is a huge portion of bills that need to be paid on a recurring basis and this segment seems to be the most under-serviced from a mobile payments perspective.
A chart from research conducted by ACMA, shows that electricity, gas, water and waste services topped the list of sectors saving time and cost reduction through mobile broadband access.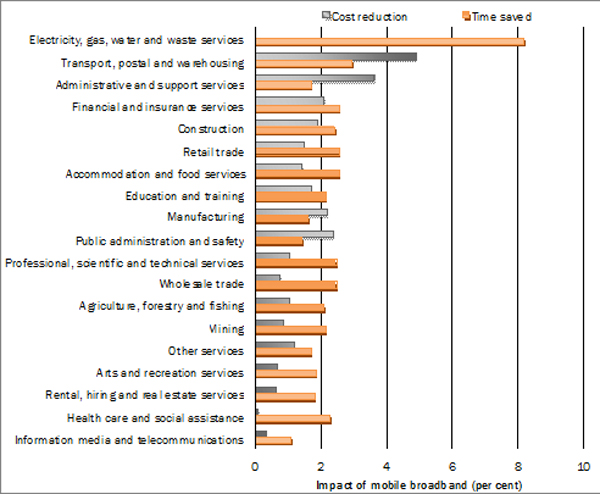 With an equally robust telecoms infrastructure, access to services over the mobile channel is also becoming more pronounced.  3G networks covered 94–99 per cent and 4G networks covered at least 66 per cent of the Australian population at June 2013.
While the internet continues to evolve into the mobile internet, business are rushing to enhance their mobile consumer experiences by developing mobile friendly applications and QR code technology to shorten interaction time with the consumer.  In Australia, 4.3 million people had downloaded a banking and finance app (59% of mobile internet users), and one in 10 had used a QR reader at December 2013.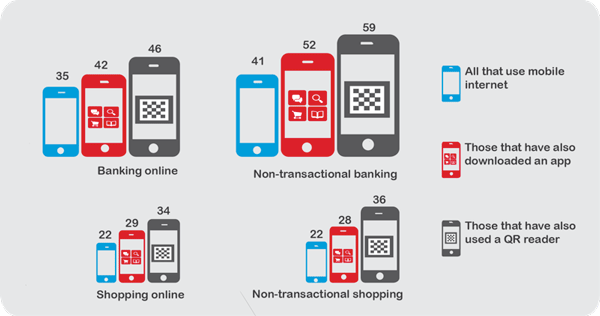 Platform Influence – Percentage of Australians 18 years+ who used the internet on their mobile phone
Although there are several bill payment options offered by banks and merchants, there is a real gap in the market for a centralised, agnostic and quick payment system which allows consumers to carry out the 'mundane' task of purchases with minimal effort.
With limited app or icon real estate available on phone screens, consumers are picky about which apps to download.  Preference will be given to an app that can be used multiple times during the day.  Take the analogy of a payment card from Mastercard, Visa and Amex being accepted at multiple merchants.  When you are required to pay, it will always be one of these cards that you will pull out of your wallet – regardless of the merchant.
Why should the mobile consumer want to be limited to his/her choice of bank or solution provider or merchant when the process of payment today is already universal across businesses?
The agnostic Mobile wallet
Based on the data above, there is potentially a gap in the mobile wallet market place.  Some key take-aways:
Need for a 3rd party 'universal and agnostic' payment wallet that allows consumers to pay for anything, anywhere and to anyone
This wallet needs to be able to facilitate remote payments (as opposed to proximity point-of sale payments)
Service B2B or enterprise bill payments and utility providers within the service sector
Preferably integrate with a simple scan of a QR code.
During my work at a large telco, a lot of the developments we carried out were based around trying to create open platforms that were agnostic to demographic or financial service.  One such service connected the largest billers in the UAE to over 15 banks and collecting agents over multiple channels like mobile, web, and point-of-sale – thus providing the consumer choice to initiate a bill payment from any location.
I had the opportunity to work with innovative solutions like Beam Wallet that took the bold step of promoting a loyalty shoppers programme with a frictionless payment feature.  Central to their development is the implementation of a dynamic 'time-sensitive' QR code which appeared on the mobile app and when presented at the point-of-sale would transmit user and payment data to the merchant.
Coming back to the Australian opportunity, bill payments are largely carried out via your chosen banking provider hence creating the dependency of partnering with such financial providers.  However, these banks will only service their own customer base thus creating payment wall-gardens.
BPay, a common bill-payment solution has a QR code scan option that populates bill data into your mobile banking app, but still relies on the banking provider to fire the payment instruction to the merchant or biller.
Importantly, BPay is a method for paying bills only – not making mobile purchases from merchants.  This limits its ability to gain acceptance across a fast-moving consumer audience that is craving ubiquity of purpose for both discretionary and non-discretionary mobile payments.
I was lucky enough to get a sneek-peek into an interesting app that might just tick all the boxes. Sniip is one start-up that is trying to address the problem by enabling businesses and merchants to accept 'frictionless' payments by simply scanning a dynamic QR code which also processes payment data.  Users store their payment details within the Sniip wallet thus totally removing the need for the consumer to enter any additional data during the payment process.
The 'scan-and-pay' process encourages impulsive payments for bills hence reducing overdue and outstanding bills for merchants and service providers. Billers place a unique trademarked 'circular QR Code' on a bill which when scanned by the Sniip app, captures bill data, embeds payment data from the user and sends the bill payment instruction to the merchants chosen payment gateway.  No banks, no settlement process, instant and more importantly – remotely.
While there are several products out there trying to address mobile @ the point-of-sale, Sniip has taken an approach of making payments as simple as possible through the scanning of a circular  QR code with their mobile device.   It is principally aimed at remote payments i.e.  bill payments or purchases from catalogues, rather than logging onto a mobile banking portal or retail website.
While other payment solutions in the market serve 'closed wall' customer groups, Sniips' unique value proposition is that it encourages the consumer to remain by-partisan in the payment process giving them the path of least resistance for payments – be it at a merchant, in-app or paying remotely for a utility bill.
Despite security fears around malicious QR codes, codes that are generated directly by providers with a dynamic algorithm are much more secure.  A lot of the fear is built around scanning a code not knowing what action is going to be triggered.  The circular QR code, which has been trademarked by Sniip, re-directs data to the Sniip app first, for authentication and verification before any payment data is passed out to the network.
In my view, the whole concept of financial inclusion, particularly in developed markets, is not only limited to access to cards, payment options, channels and bank accounts – but rather the ability to be able to transact with minimal friction. As consumers in Australia become more and more time-poor and convenience-hungry, they will eventually demand services that offer minimum intervention and mobile payments and start-ups like Sniip are making that happen.