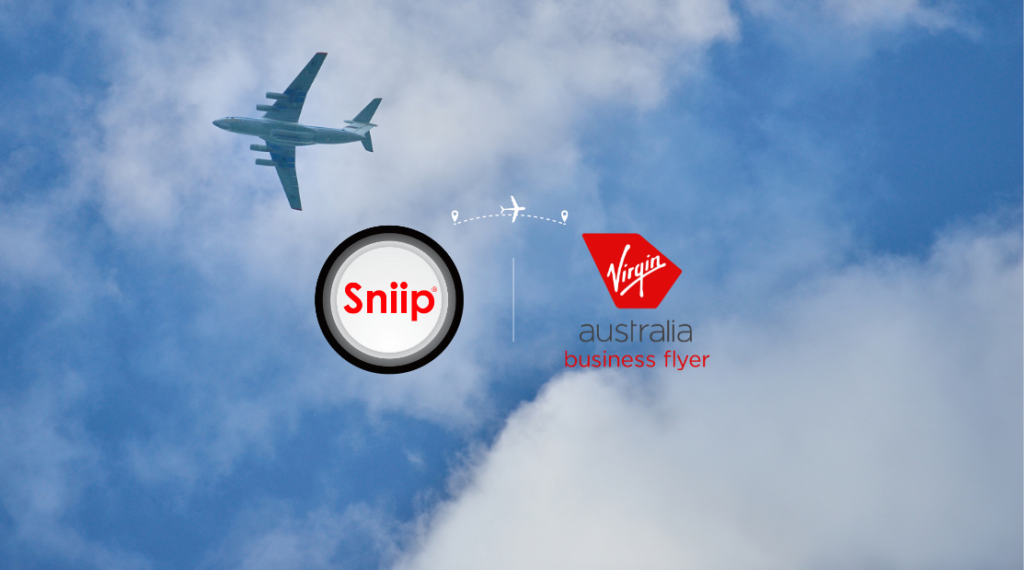 How to earn Velocity Points Australia:
Sniip partners with Virgin Australia Business Flyer
Unlocking a first in the loyalty space. Sniip joins forces with Virgin Australia Business Flyer offering the ability to earn Velocity Frequent Flyer Points when paying business bills. 
Sniip, built on successful consumer bill payments, launches into the business bill payment sector through this marquee partnership.
Over 50,000 Virgin Australia Business Flyer customers can now benefit from additional Points-earning opportunities when using Sniip, including earning up to 7,500 bonus Velocity Points.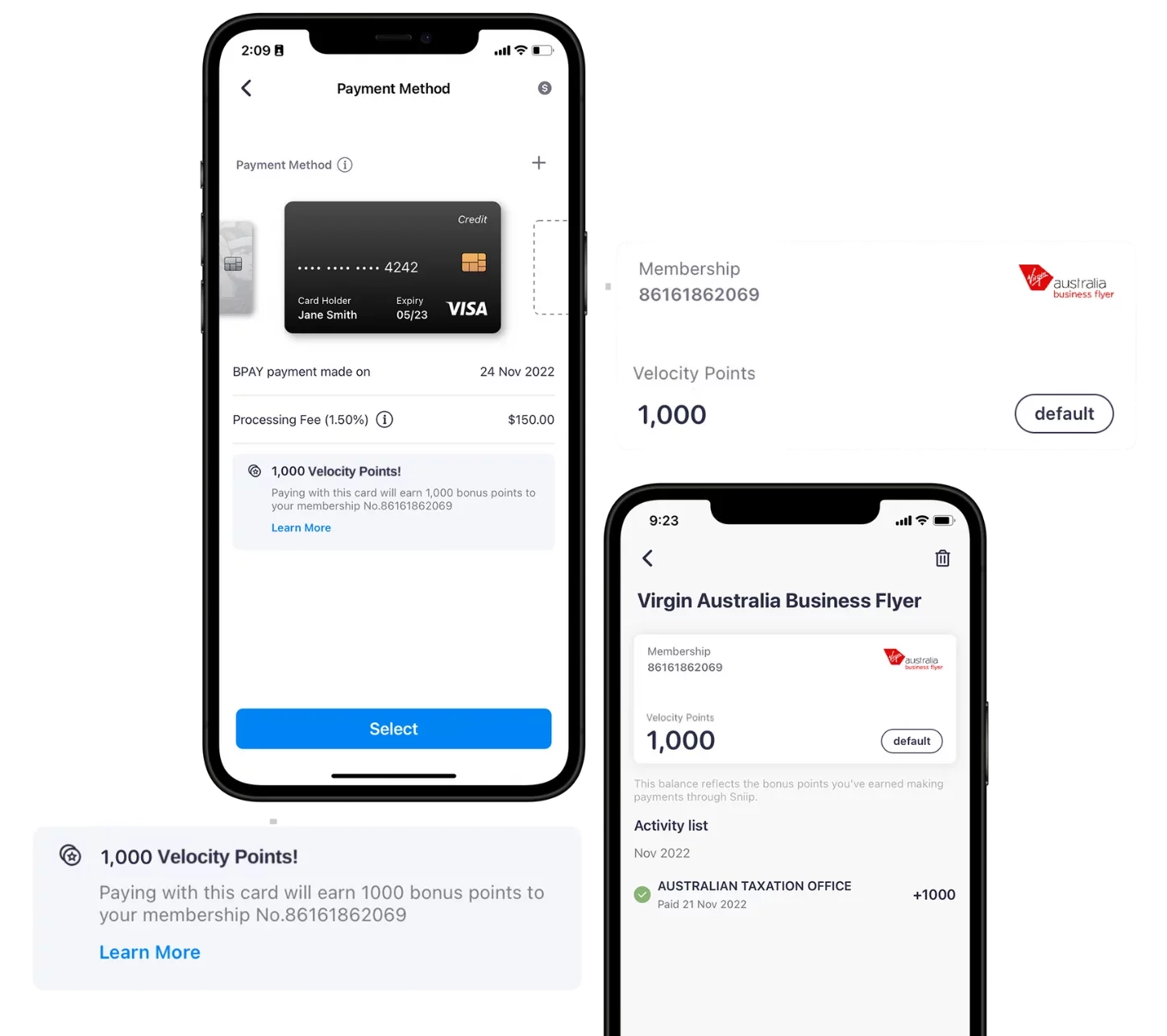 How to Earn Velocity Points
Sniip, Australia's popular mobile bill payments platform, today announces a new partnership with Virgin Australia Business Flyer. The partnerships provides customers the opportunity to earn Velocity Frequent Flyer Points when paying business bills with Sniip. 
New Sniip users will benefit from this compelling offer when making purchases with leading airline Virgin Australia, gaining 7,500 bonus Velocity Points when they spend a minimum of $2,500 on bills in 30 days. Virgin Australia Business Flyer members will also earn 1 Point for every $10 paid on business bills using Sniip. This is in addition to Points they would normally earn from their chosen credit card.
Damien Vasta, CEO of Sniip said the partnership heralds an exciting start to Sniip's launch into the business payments space. 
"Being able to stand alongside Virgin Australia Business Flyer and Velocity Frequent Flyer is validation Sniip has disrupted the manner in which individuals and businesses choose how they make payments. We are so proud to be offering all users something that's clearly valuable to them." 
A Word from Virgin on the New Partnership
 Highlighting Sniip as a pioneer in mobile-bill payments, Velocity Frequent Flyer CEO Nick Rohrlach said, "Businesses can't avoid paying bills – this partnership offers a compelling reason for our members to use Sniip. Not only can they make payments more easily, but they can now be rewarded at the same time."
Sniip paves the way to manage all bills. Users can pay everything from ATO to superannuation payments, commercial rent, utilities and now business bills with ease. 
Sniip allows customers to turn Points into rewards seamlessly by transferring business' Velocity Points to a Velocity Frequent Flyer account. 
Virgin Australia Group is a major Australian airline headquartered in Brisbane, Australia. The company operates an extensive domestic network as well as short-haul international, charter and cargo services. Virgin Australia's award-winning loyalty program, Velocity Frequent Flyer, now boasts more than 11 million members. The Group employs more than 7,000 people and has been a competitor in the Australian aviation landscape for 22 years.
Sniip is a mobile bill payments platform. The app allows consumers and businesses to easily pay their bills via the Sniip app, using any debit or credit card. Users can scan a BPAY Biller Code or import a bill from their email using the Sniip app and pay their bills in less than 10 seconds. Learn more or download our app at sniip.com. Through its existing partnerships with BPAY and AMEX, Sniip has continued to scale its business and build its network of users. This has grown by over 250% from 30,000 in January 2021 to more than 85,000 at the end of November, 2022. During the same period, Sniip saw a 1,000% monthly increase in BPAY payment transaction value. The company has now processed more than $600 million worth of bill payment transactions to date.