Toowoomba Regional Council first in Australia to launch digital bill delivery using push notifications, via Sniip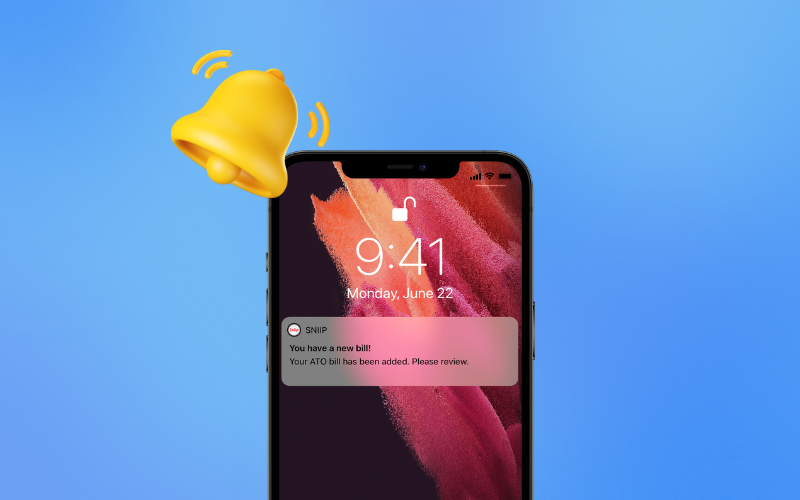 Toowoomba Regional Council is leading Australia in digital billing, by partnering with Australia's first bank-agnostic payments and billing app, Sniip, to launch a patented "m-billing" function that will alert ratepayers of Council rates and water bills via push notifications directly on their smartphones.
Ratepayers can opt into the function by registering for m-billing in the Sniip app, from which point they will receive future bills directly into the app via push notifications and can pay in a few simple clicks, without inputting any extra data or leaving the app.
The end-to-end paperless solution is expected to drastically reduce the Council's overheads and carbon footprint by helping them transition seamlessly to paperless billing, shorten bill payment times across the region, and simplify bill payments for ratepayers.
"Toowoomba Council is addressing the long-standing issue of late payments, which has been an ongoing and very expensive concern for billers across Australia," said Damien Vasta, CEO of Sniip.
"The fact that there have been so many attempts to address Australia's billing and payments problem is testament to how much of an issue it really is. Unfortunately, many of these attempts have been incomplete and can even compound the issue.
"The confusion for customers mistaking email bills for junk mail or spam has actually increased numbers of late payments, while payers typically still need to open a PDF, go to a different website to pay, and repeatedly input large amounts of information.
"M-billing, eliminates every one of these issues. Push notifications are seen instantly and can be actioned in seconds. There's no need to input further information after the app is set up, data is stored with bank grade security that can't be hacked, and all payment history is stored for future reference. The key is to seamlessly integrate the bill-receiving and bill-payment functions.
"We applaud Toowoomba Regional Council for being a pioneer of this technology on behalf of their constituents ahead of every other council in Australia," concluded Damien Vasta.
The move towards completely digital payments by the Council comes shortly after calls by Treasury to stop banks, telcos, and energy providers from negatively coercing consumers away from paper billing through punitive fees. It also comes after decades of research that highlights cash flow as a key indicator of long-term business viability and success, including the Federal Government's Prompt Payment Protocol Paper which highlighted that 90 per cent of SME failures result from poor cash flow.
Sniip's "scan to pay" functionality – where payers scan a QR code and pay via the app, but continue to receive paper bills – has already been rolled out for Toowoomba, Gympie Regional Council, Brisbane City Council and Queensland Urban Utilities.
However, Toowoomba Regional Council was also first to pioneer Snip's "scan to pay" functionality in 2015, and is proud of being consistently first in Australia to break new ground in the important area of payments innovation and progression, according to General Manager Finance and Business Strategy, Arun Pratap.
"Like any Australian council, we are dedicated to serving the needs of our residents, and are constantly seeking out new ways to improve their lives, including using innovation to create more options for making payments," said Arun Pratap.
"We understand that keeping on top of bill payments can be stressful for many Australians, who want to pay on time, but who often have so much else going on in their lives that sometimes things slip through the cracks."
"We fully believe we're making their lives easier by offering m-billing, while also helping the environment and reducing ratepayer-funded council overheads" concluded Arun Pratap.