1. I submitted my user verification documentation (KYC) but I'm not verified yet! Why?
Thank you for submitting your documentation! We usually review your verification submission within one (1) business day. 
You will be notified (via push notification and email) when your verification has been approved. To ensure your account gets approved as soon as possible, please ensure you upload a copy of your current Driver Licence or passport that clearly shows your full name, date of birth and photograph – you can explore our top tips for successful verification, here. 
If you'd like to check the status of your user verification, or require it to be reviewed urgently, please call (07) 3268 7710 or email customercare@sniip.com.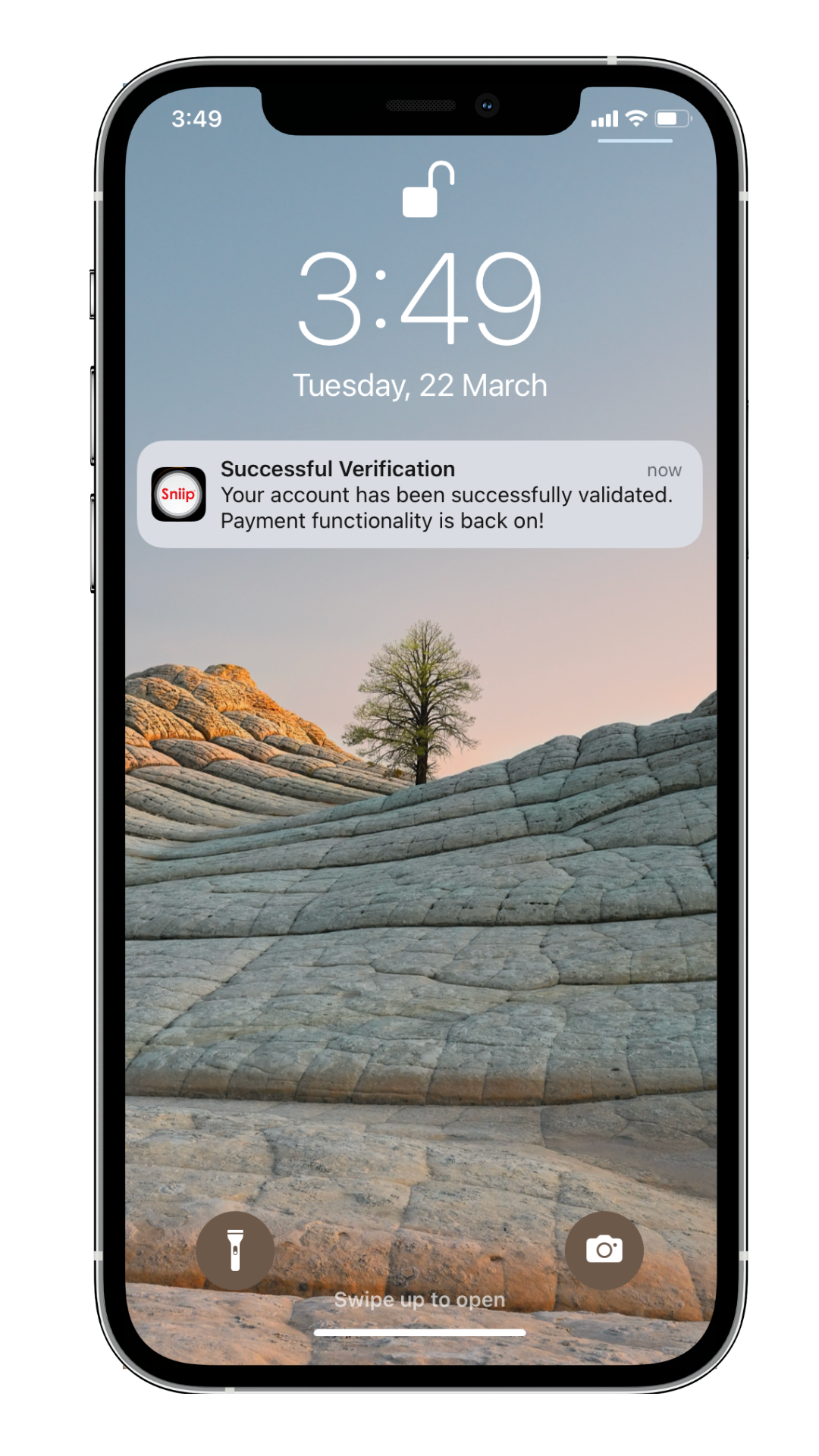 2. I added a bill and it says, 'Biller Under Review' - what do I do?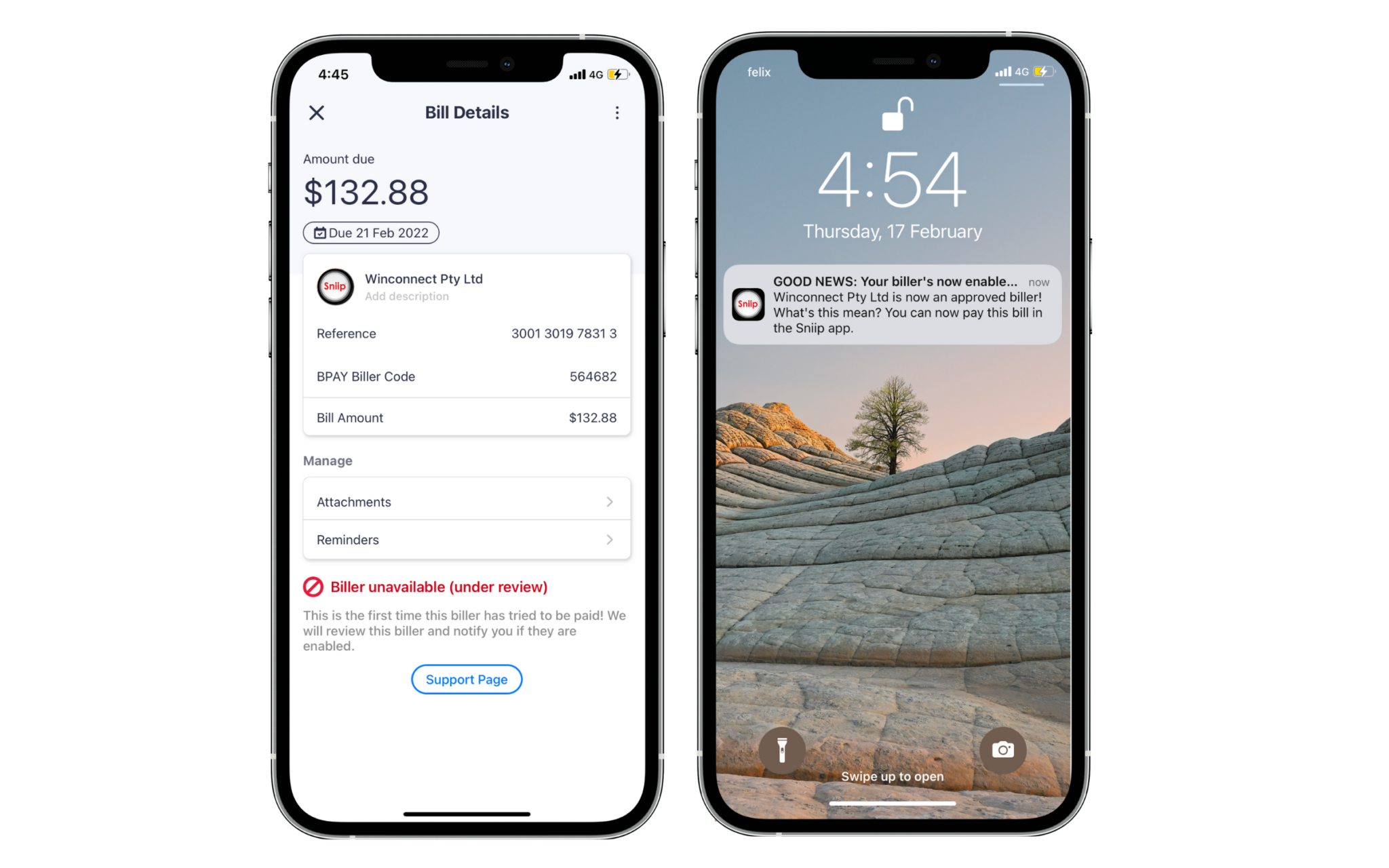 Great question! If your bill is under review, it's likely that you're the first person to pay that biller with the Sniip app.
Rest assured, we review new billers as quickly as possible – usually within 24 hours.
If your biller is approved, you will receive a push notification letting you know. You may be asked to supply a copy of your invoice as part of the approval process.
If your biller is determined to fall under one of our restricted industries, Sniip will display the message "Biller not currently available" on the 'Bill Details' screen.
These categories include:
Remittance service provider

Charities and Not-for-Profit

Intermediaries

Pay-day lenders

Internet gambling

Casinos

Goods dealers

Foreign exchange currencies

Securities and derivatives

Managed investment schemes

International business operations

International students or travel products

Hiring and leasing

Banking and financial institutions
If there's any urgency to your bill payment, we completely understand! Please email a copy of your invoice to customercare@sniip.com. Alternatively, call our Sniip Support Squad on (07) 3268 7710 and we'll be happy to assist you and expedite the review process where possible.

Please note: If a biller has already been reviewed and restricted, you will receive a 'blocked biller' message and the pay button will be disabled. If you believe this is a mistake, please contact us.
3.When can I start paying to a biller's bank account (BSB and Account Number) because my bill doesn't have a BPAY Biller Code?
Since launching pay from a BSB and Account number at the start of this month, this is the #1 question we're receiving right now and we appreciate your enthusiasm.
Rest assured, we're working hard to bring you this functionality. Our Technical Development Team is currently working away like busy bees and right now we're on track to release this in 2023. This means you'll be able to pay all your bills using Sniip, whether they have a BPAY Biller Code or not.
If you'd like to hop on the waitlist to be notified when this feature is released or join our pre-release for this feature, please email customercare@sniip.com.
4. Do you have a daily limit for transactions?
Great question! There is no daily limit for transactions made through the Sniip app. 
However, if you're using the Sniip app for the first time or processing a larger bill than usual, your bank may restrict the transaction amount based on their own internal security guidelines. 
If you are making a payment of this nature, we recommend contacting your bank directly to pre-authorise the transaction. 
If you process the transaction, you may receive the notification, 'Declined'. 
5. How do I invest in Sniip?
This is a frequently asked question by many of our users. Right now, Sniip is an unlisted public company. If you would like to discuss investing in Sniip, please contact investors@sniip.com.
Please note, our office will be closed Friday, April 15 (Good Friday) through to Monday, April 18 (Easter Monday) and reopen Tuesday, April 19. 
If you require urgent support over this time, please email customercare@sniip.com and a member of our Sniip Support Squad will assist you.