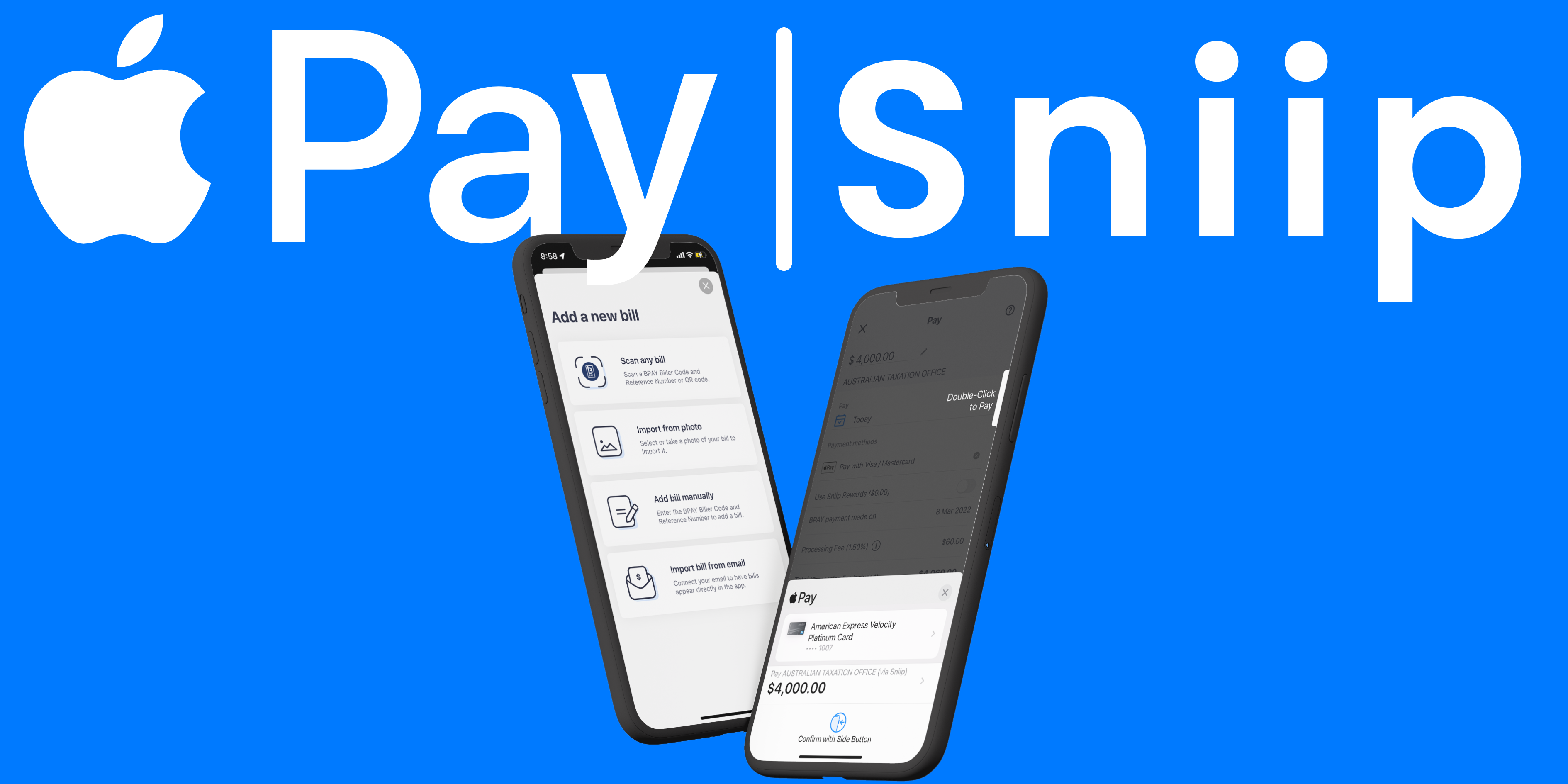 Apple Pay partners with Sniip
BREAKING: Mobile bill payments platform, Sniip today brings its customers Apple Pay, a safer, more secure and private way to pay their bills using the power of iPhone to protect every transaction.
Customers simply select Apple Pay in the Sniip app to make a secure payment to over 60,000 billers in the BPAY network. Every Apple Pay payment is secure because it is authenticated with Face ID, Touch ID, or device passcode, as well as a one-time unique dynamic security code. As a result of the partnership with Sniip, customers can use Apple Pay on an iPhone to make bill payments that are faster and more convenient as they no longer need to repeatedly type in personal and payment card information. 
"We're excited to offer Apple Pay as a new payment option in the Sniip app, reinforcing our commitment to providing the ultimate convenience in bill payments for our 40,000-strong customer base. Sniip remains focused on delivering a fast, seamless, and consumer-centric approach to bill payments and adding such a widely-used mobile wallet such as Apple Pay is a big step forward," said Damien Vasta, CEO of Sniip.
Security and privacy are at the core of Apple Pay. When customers use a credit or debit card with Apple Pay, the actual card numbers are not stored on the device, nor on Apple servers. Instead, a unique Device Account Number is assigned, encrypted, and securely stored in the Secure Element, an industry-standard, certified chip designed to store the payment information safely on the device.
Apple Pay is easy to set up. On iPhone, simply open the Wallet app, tap +, and follow the steps to add your credit or debit cards. Once a customer adds a card to iPhone, they can start using Apple Pay on that device right away.
About Apple Pay
For more information on Apple Pay, visit: http://www.apple.com/au/apple-pay/
About Sniip
Sniip is a mobile bill payments platform allowing consumers to easily pay their bills via the Sniip app, using any debit or credit card. Users can scan a BPAY Biller Code or import a bill from their email using the Sniip app and pay their bills in less than 10 seconds. Learn more or download our app at sniip.com. Through its existing partnerships with BPAY and AMEX, Sniip has continued to scale its business and build its network of users by almost 40% from 30,000 in January 2021 to more than 42,000 at the end of February 2021. During the same period, Sniip saw a 400% increase in BPAY payment transaction value and has  now processed more than $100 million worth of bill payment transactions to date.
For further information please contact:
Citadel-MAGNUS
Emma Lewis, +61 (0)401 877 876; elewis@citadelmagnus.com   
Catherine Strong, +61 (0)406 759 268; cstrong@citadelmagnus.com