Your Most Frequently Asked Questions Answered
1 Can I move my recurring payments (direct debits) over to Sniip?
Absolutely! If your biller offers a BPAY Biller Code and Reference Number, you can pay it with Sniip. Some examples of recurring payments our users love making with Sniip include, rent, utilities, school fees, phone bills, and insurance.
To set-up a recurring payment, simply add your bill to the Sniip app, tap the bill, then select, 'Schedule' and then 'Create Recurring Payment'. Next, you select the recurring amount, the start date and the frequency you'd like to make the recurring payment. This could be weekly, fortnightly, monthly or quarterly.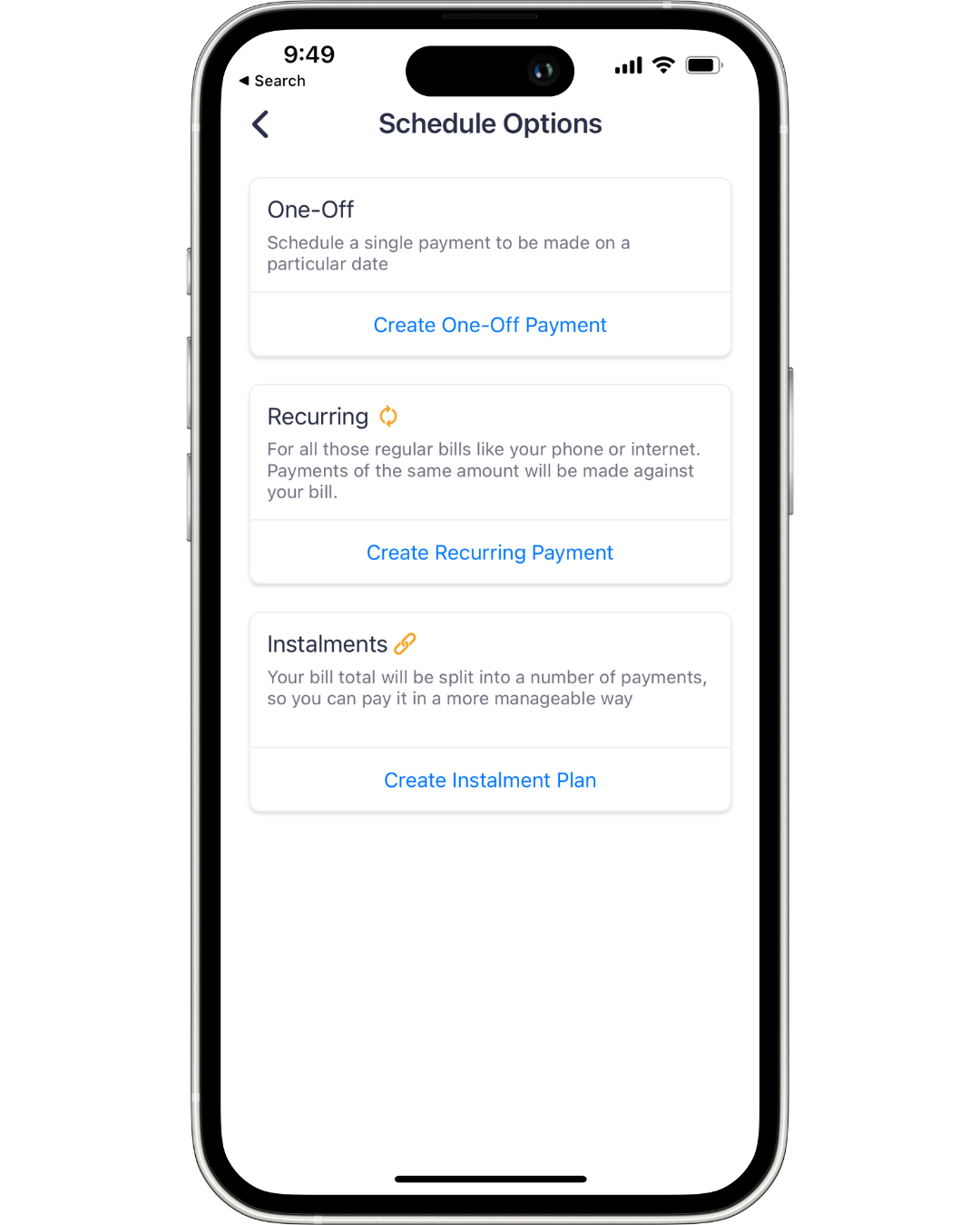 Add your bill and schedule your payment, then select 'Recurring'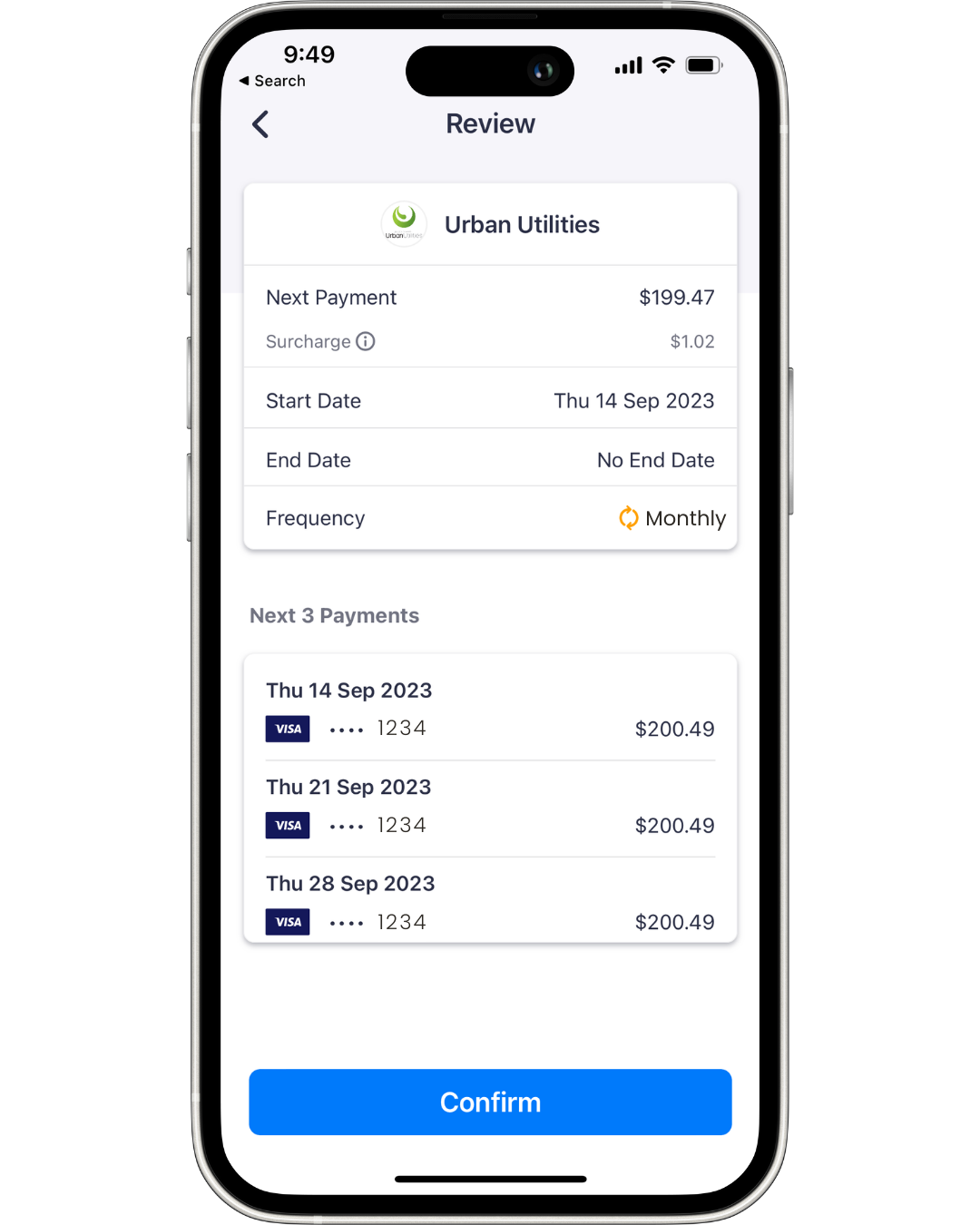 Choose your start date, end date, frequency and payment method for your recurring payment
2 When I use Sniip, does it count as a BPAY payment? BPAY payments are not included in my minimum spend for credit card bonus points.
No, a bill payment made using Sniip does not count as a BPAY payment for your minimum spend! Sniip transactions will count towards your minimum spend amount to earn the bonus points.

How? Your transaction is considered as a regular payment to The Sniip Trust, meaning you earn full points on the transaction. This does not appear as a BPAY payment on your credit card statements, as Sniip makes the BPAY payment on your behalf once your funds land in The Sniip Trust account, so your credit card provider does not recognise this as a BPAY payment. 
3 My biller hasn't received the payment yet, but I saw the payment was made yesterday, why is that?
That's a great question, and you have no reason to worry! Each biller has their own reconciliation timeframes, and this could be the reason this particular payment has not been updated in your biller's accounts.  Your biller will be able to locate your payment using the 'BPAY Receipt ID', which is found on your Sniip receipt. 
Your biller will always acknowledge the date of payment as the date that is stamped on your Sniip receipt. If you have any further questions about this, feel free to reach out to customercare@sniip.com and we'll be happy to assist you 😊
4 When can I make a payment to a BSB & Account number (non-BPAY) biller?
Great question! We're currently beta testing this feature and it will be available shortly. 
To be ready when this feature launches, please complete 'User Verification' to get the green tick on your account, which will be required to access non-BPAY payments. You can learn more about the User Verification process and what it involves, here.
5 I've made several payments - when will I receive my Virgin Australia Business Flyer points?
Thank you for participating in our partnership with Virgin Australia, offering Velocity Points for your business through Virgin Australia Business Flyer. 
Please allow up to seven (7) days for your Velocity Points to be reflected in the Virgin Australia Business Flyer Rewards Portal. If your Points are still not showing after seven (7) days, please email customercare@sniip.com with your Sniip account details and the date of payment.  
Your Points will appear in the 'Loyalty' section of the Sniip app, as well as in your Points Activity Statement in the Virgin Australia Business Flyer Rewards Portal. To view your pending points in the Sniip app, access the 'Loyalty' section in the side menu and tap on your Virgin Australia Business Flyer program. Your pending points and points earned will appear under 'Activity List'.
because as a result
before as an illustration
besides as can be seen
but as has been noted
certainly as I have noted
chiefly as I have said
comparatively as I have shown
concurrently as long as
consequently as much as
contrarily as shown above
conversely as soon as
correspondingly as well as
despite at any rate
doubtedly at first
during at last
e.g. at least
earlier at length
emphatically at the present time
equally at the same time
especially at this instant
eventually at this point