1. In the new Sniip interface, what's the difference between, 'Review' and 'To Pay'?
Great question! We've provided some clarification for you below. 
'Review': This is a new category and includes all the bills that you have imported or "shared" to Sniip. These bills will need to be reviewed (confirming BPAY Biller Code, Reference Number, due date, amount, etc) before they appear in the 'To Pay' screen. 
'To Pay': These are the bills that you need to pay! Any bills that you have reviewed and are waiting to be paid are in 'To Pay'. 
Please note: If you're the first person to pay a BPAY Biller Code, your bill will be in 'To Pay' with the status as 'Blocked biller (under review)'. 
 If they've been paid, or scheduled, they'll either be in 'Pending', 'Scheduled' or 'Paid'. We have a very helpful resource on our website that runs you through the new Sniip interface. You can check it out, here! 
2. How do I know if a BPAY Biller is accepted by Sniip?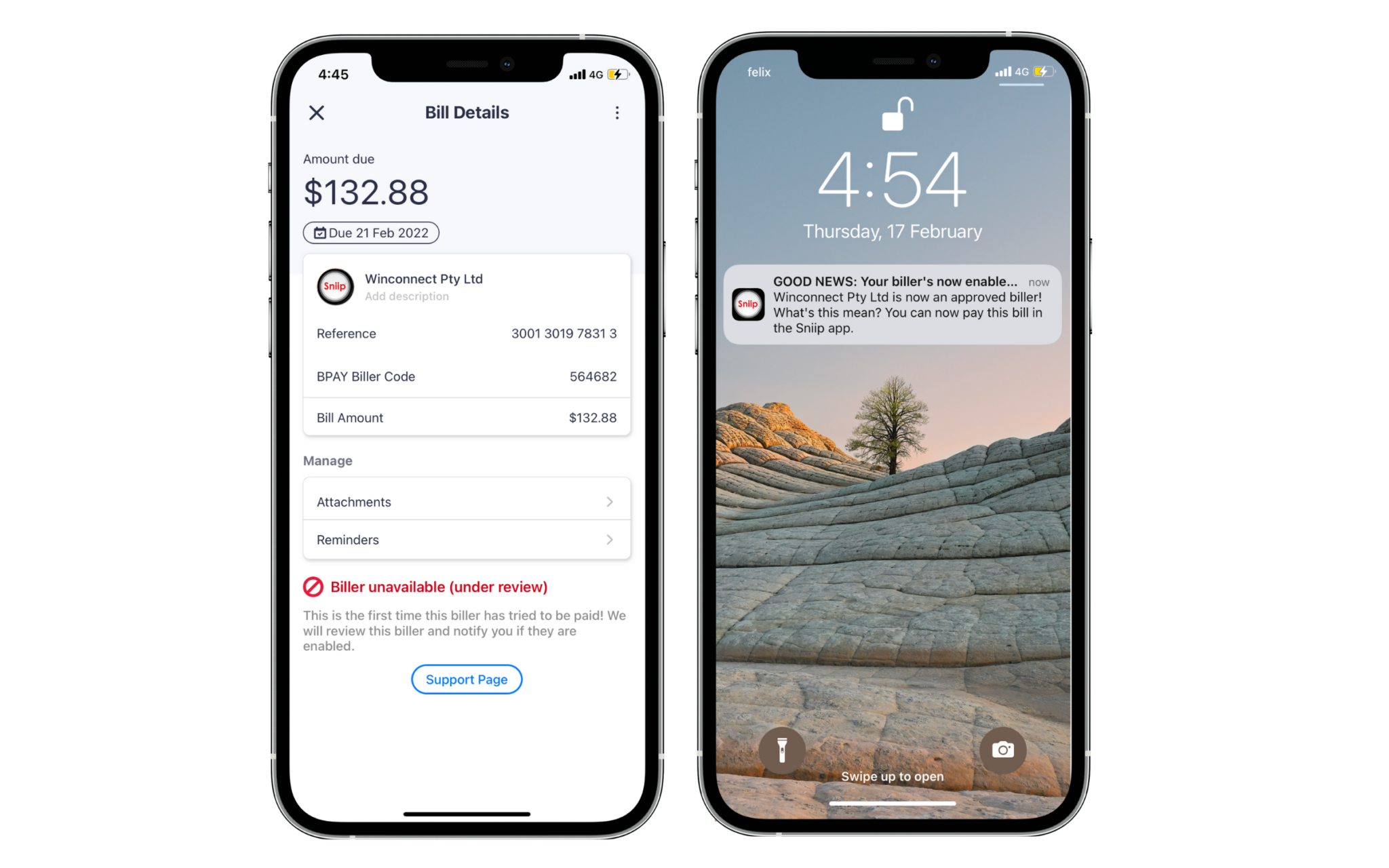 You simply need to upload the bill to Sniip to find out if it can be paid with Sniip.
When you upload a bill to the app, it will let you know whether you are able to pay that specific bill.
If you are unable to pay that bill it will either show 'Biller unavailable (under review)' or 'Biller not currently available'.
Your bill will be in the 'To Pay' tab, however it is unable to be paid until it has been reviewed by Sniip.
We aim to review all billers within 24 hours. However, if you need them to be approved quicker, feel free to give us a call (details below) and we will try and review it as soon as possible.
If your biller is approved, you'll receive a push notification to your mobile (pictured above) as well as an email. If your biller is unable to be paid, it will remain as a 'Blocked Biller' (picture above).
Unfortunately, as determined by our banking partners, there are certain restrictions regarding payments to certain billers, due to their risk profile. These include:
Remittance service provider

Charities and Not-for-Profit

Intermediaries

Pay-day lenders

Internet gambling

Casinos

Goods dealers

Foreign exchange currencies

Securities and derivatives

Managed investment schemes

International business operations

International students or travel products

Hiring and leasing

Banking and financial institutions
If there's any urgency to your bill payment, we completely understand! Please email a copy of your invoice to customercare@sniip.com. Alternatively, call our Sniip Support Squad on (07) 3268 7710 and we'll be happy to assist you and expedite the review process, where possible.

Please note: If a biller has already been reviewed and restricted, you will receive a 'blocked biller' message and the pay button will be disabled. If you believe this is a mistake, please contact us.
3.What's this about 'scan any bill?' How does that work?
Using the Sniip app, you can hover your camera over any BPAY Biller Code and have your bill (either paper or digital bill from your laptop or tablet) imported into the Sniip app, ready for payment. 
This means no more manual entry of BPAY Biller Codes or long reference numbers. When you scan, they're all imported for you!

It's a very cool feature and we'd love you to check it out! The concept is the same as scanning a QR code, but instead you're scanning the BPAY Biller Code and reference number on the bill.

Here's a quick, 'how-to' for scanning in your first BPAY Biller Code using Sniip.

Open the Sniip app, tap the '+' button and select 'Scan any bill'. 

Hover your camera over the BPAY Biller Code on your bill. 

A digital version of your bill will be imported into the Sniip app ready for payment.
4. What does 'auto import' mean? What is this magic?
This is hands-down one of our favourite features in the Sniip app and the best way to keep track of your bills. 
How? We'll scan your inbox for any bill you can pay with Sniip and automatically add it into the Sniip app ready for your payment. We'll send you a handy push notification when the bill arrives meaning you'll never miss a bill payment again. 
Is it safe? Absolutely! At Sniip we're proud to have achieved Tier 1 in the Payment Card Industry, Data Security Standards (PCI DSS) – this is the same, stringent level as banks. 
Ready to get set-up? Here's how: 
In the Sniip app, tap the menu in the top left corner 

Select 'Import from email', then select your chosen mail provider 

Connect your email address. Done!
5. How do I invest in Sniip?
This continues to be one of our most commonly asked questions and is a top search of Google.

Thank you for your interest in investing in Sniip.  
Right now, Sniip is an unlisted public company. If you would like to discuss investing in Sniip, please contact investors@sniip.com.