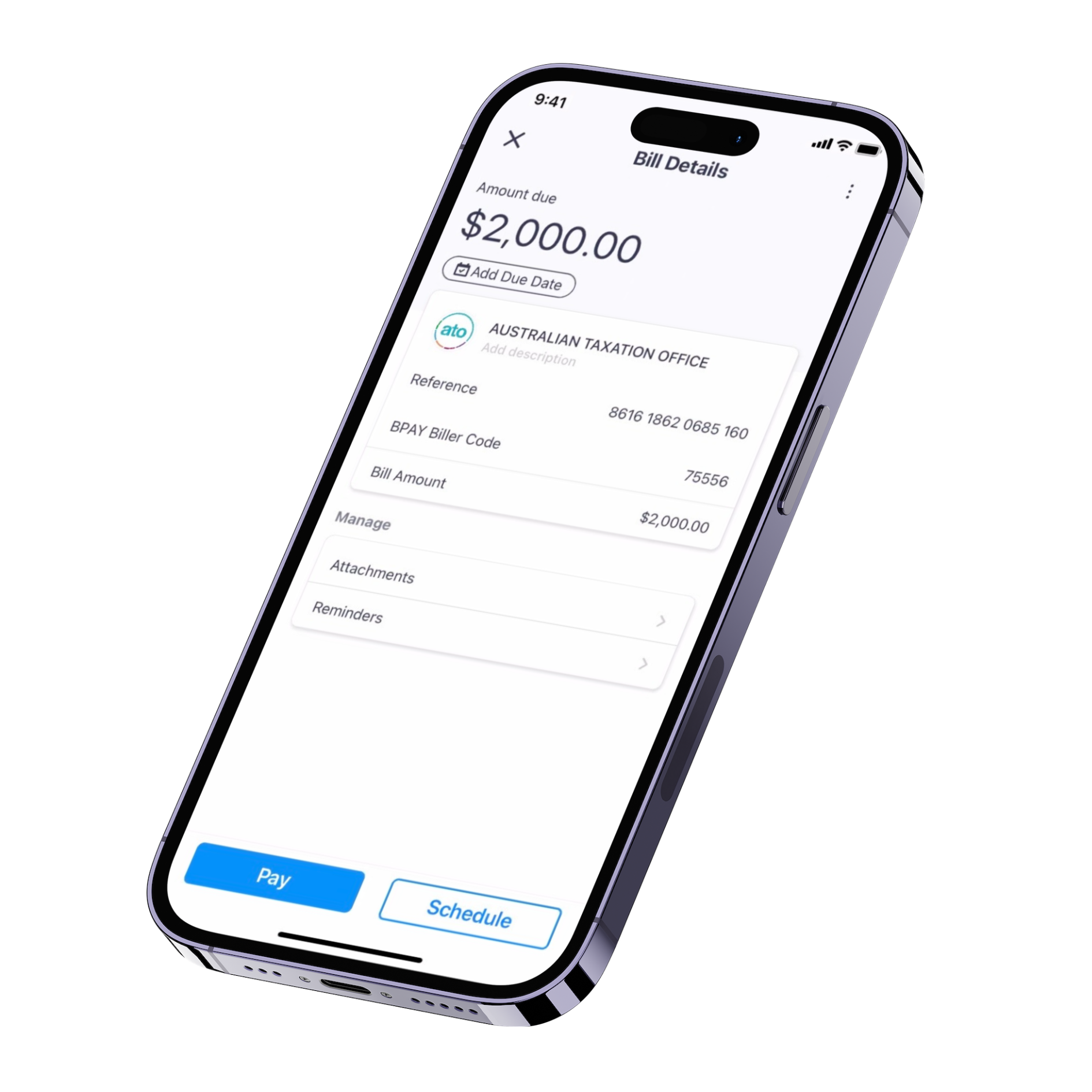 Sniip vs ATO Direct Payment
In the realm of tax payments, efficiency and value are paramount. In this comparison, we delve into the intricacies of processing rates, fees, cost per point, and total points earned when making payments to the Australian Taxation Office (ATO) through Sniip versus opting for direct ATO payments.
Sniip stands as the frontrunner for making payments to the Australian Taxation Office (ATO), regardless of the type of American Express (AMEX) card you possess. Sniip consistently outshines direct ATO payments by offering a low-cost, high-value option. 
Making a $100,000 ATO Payment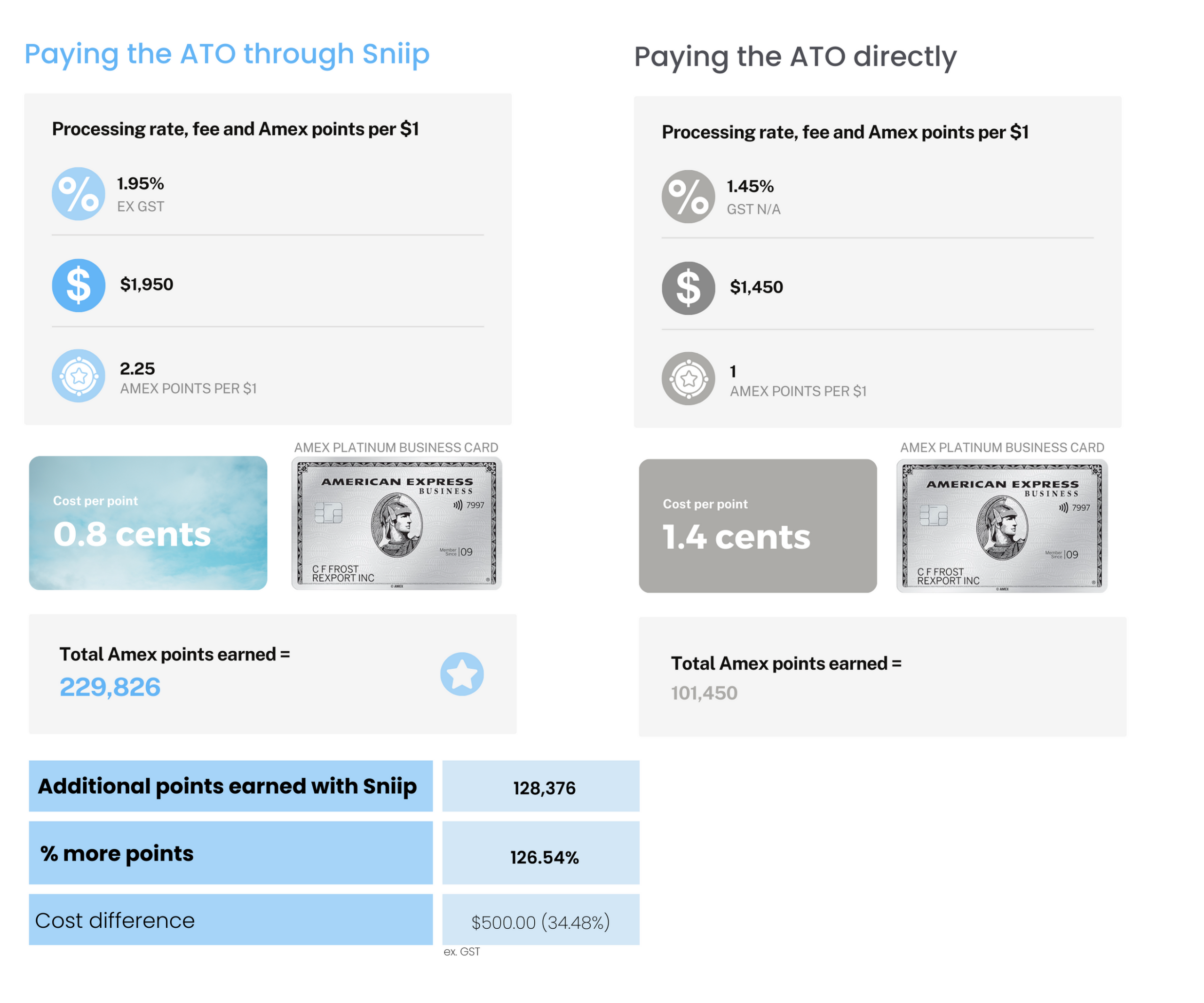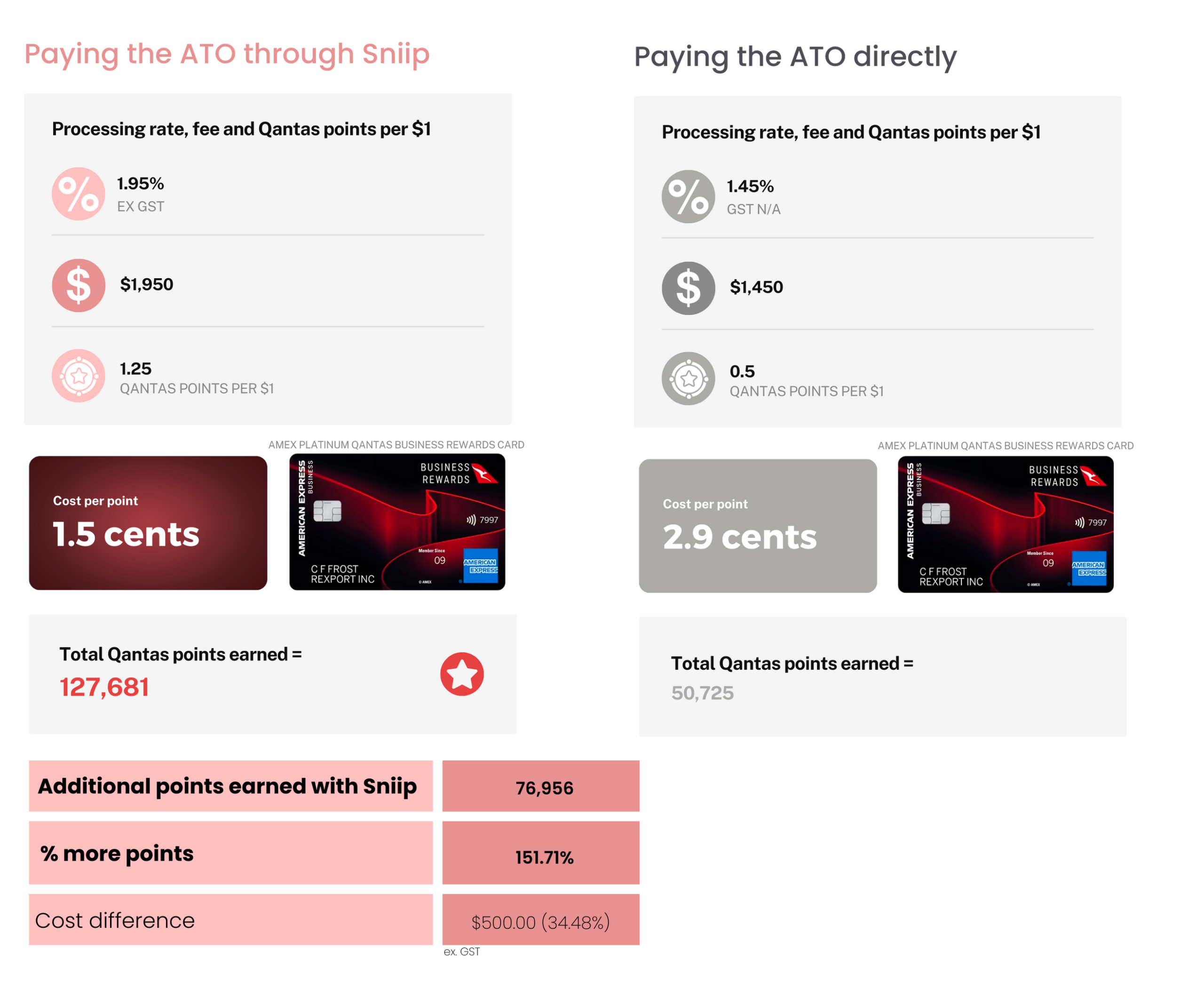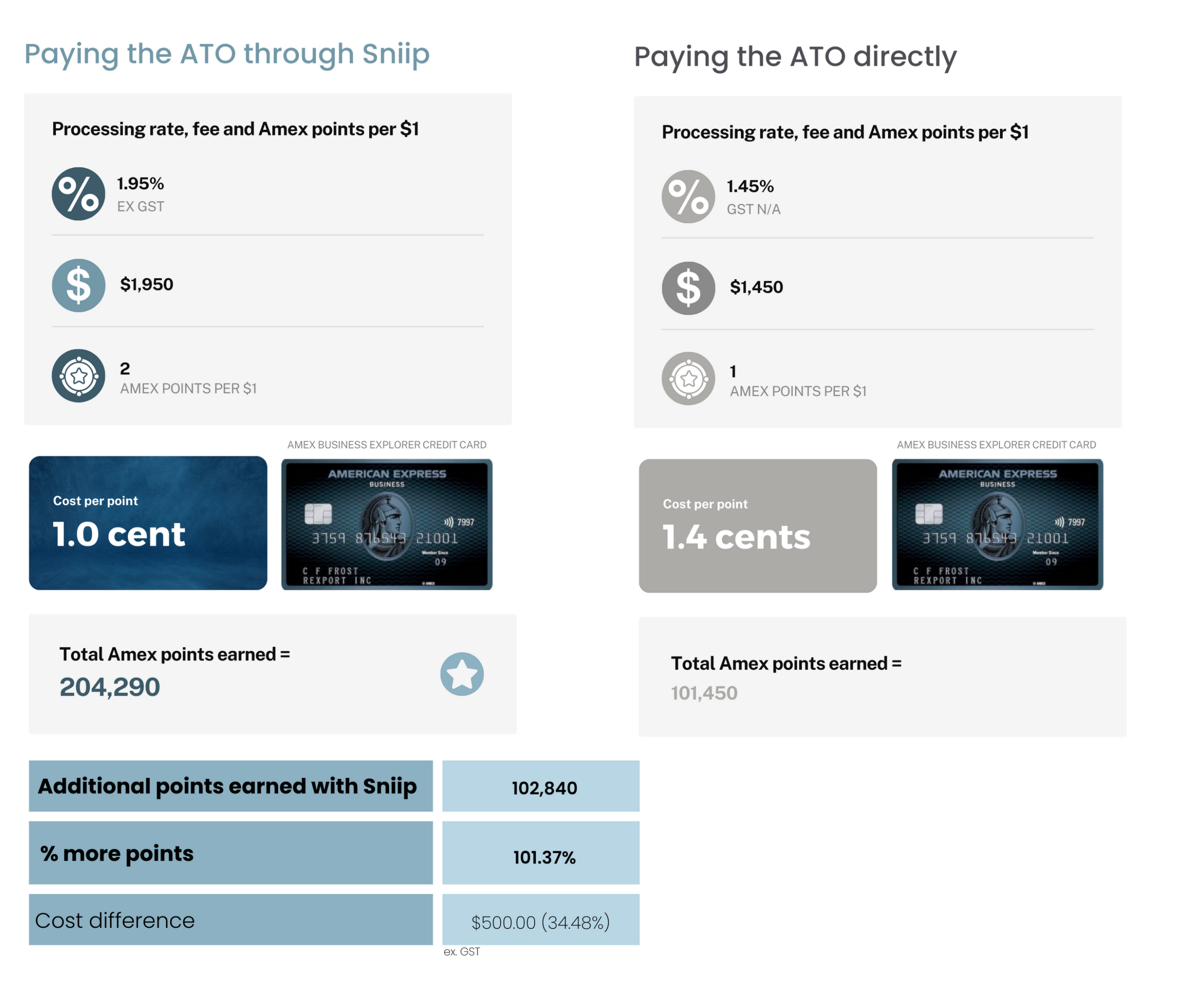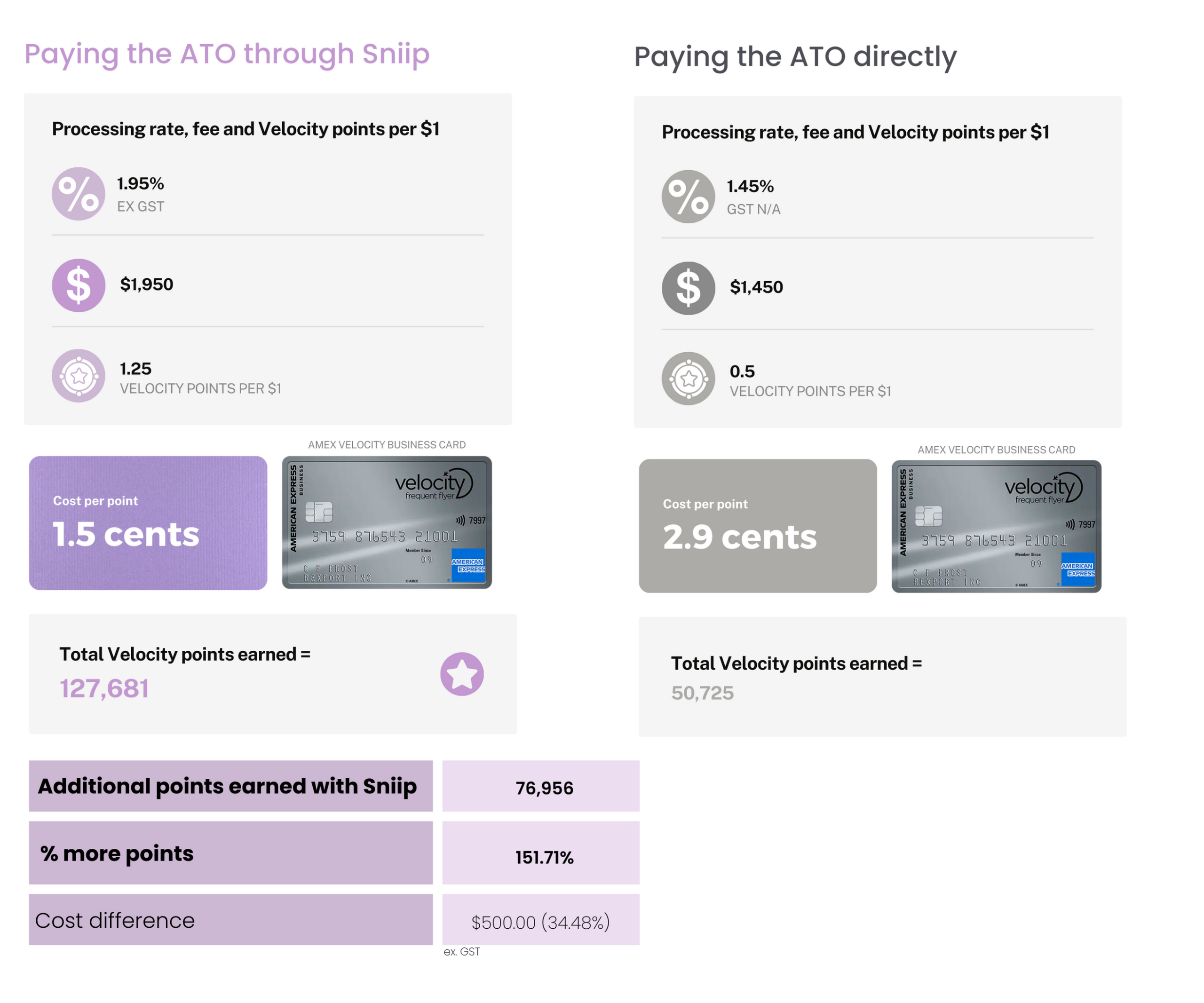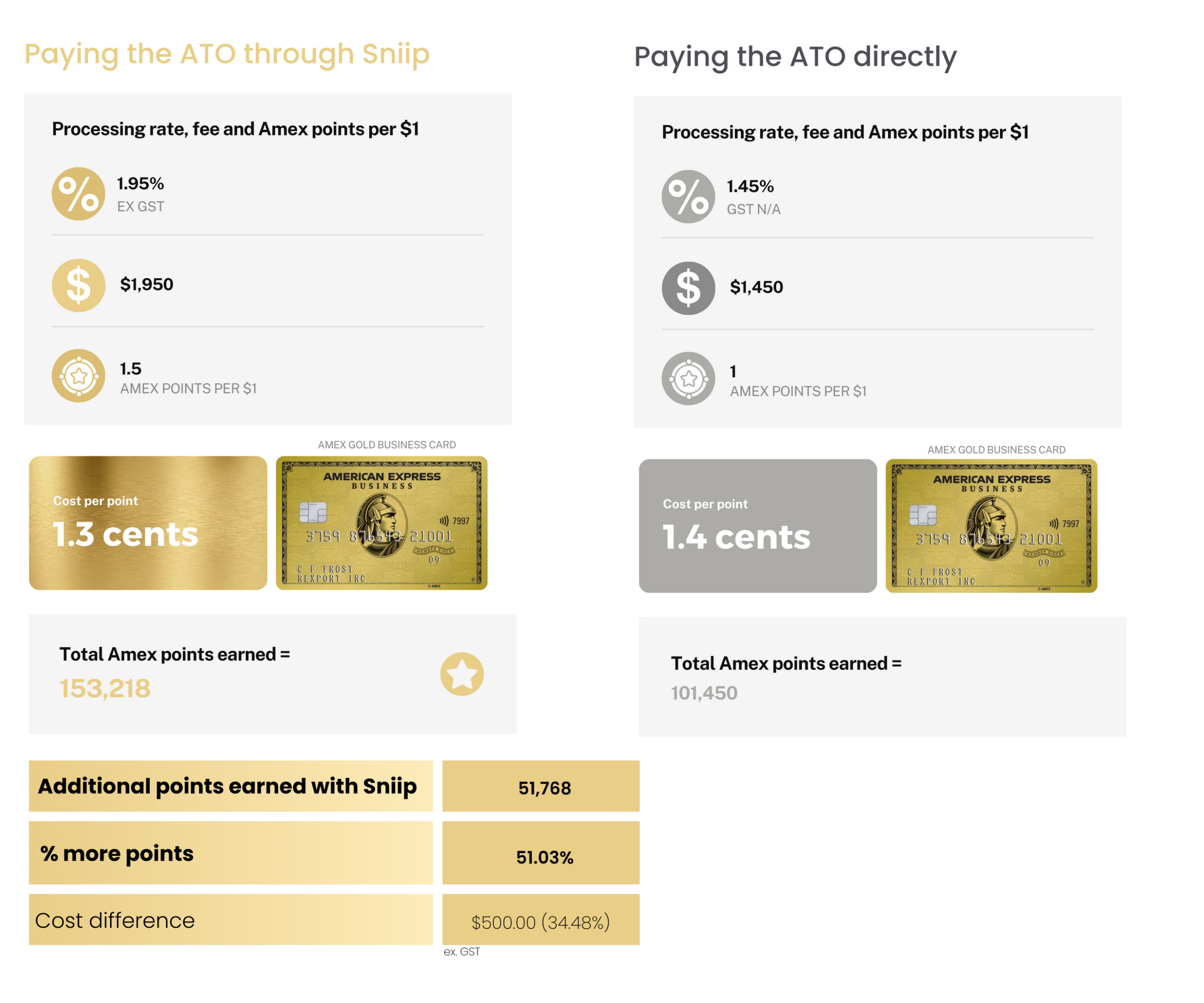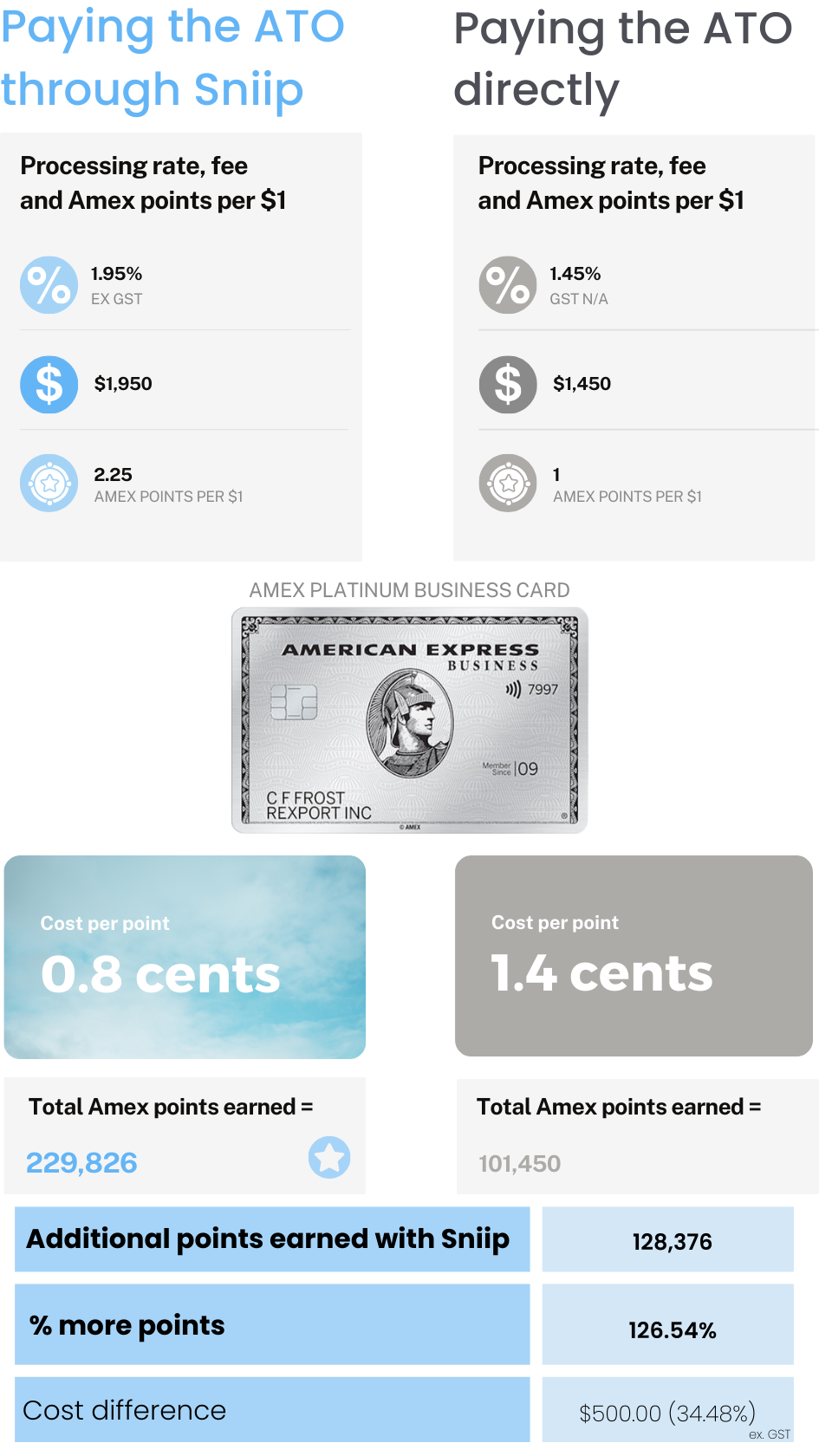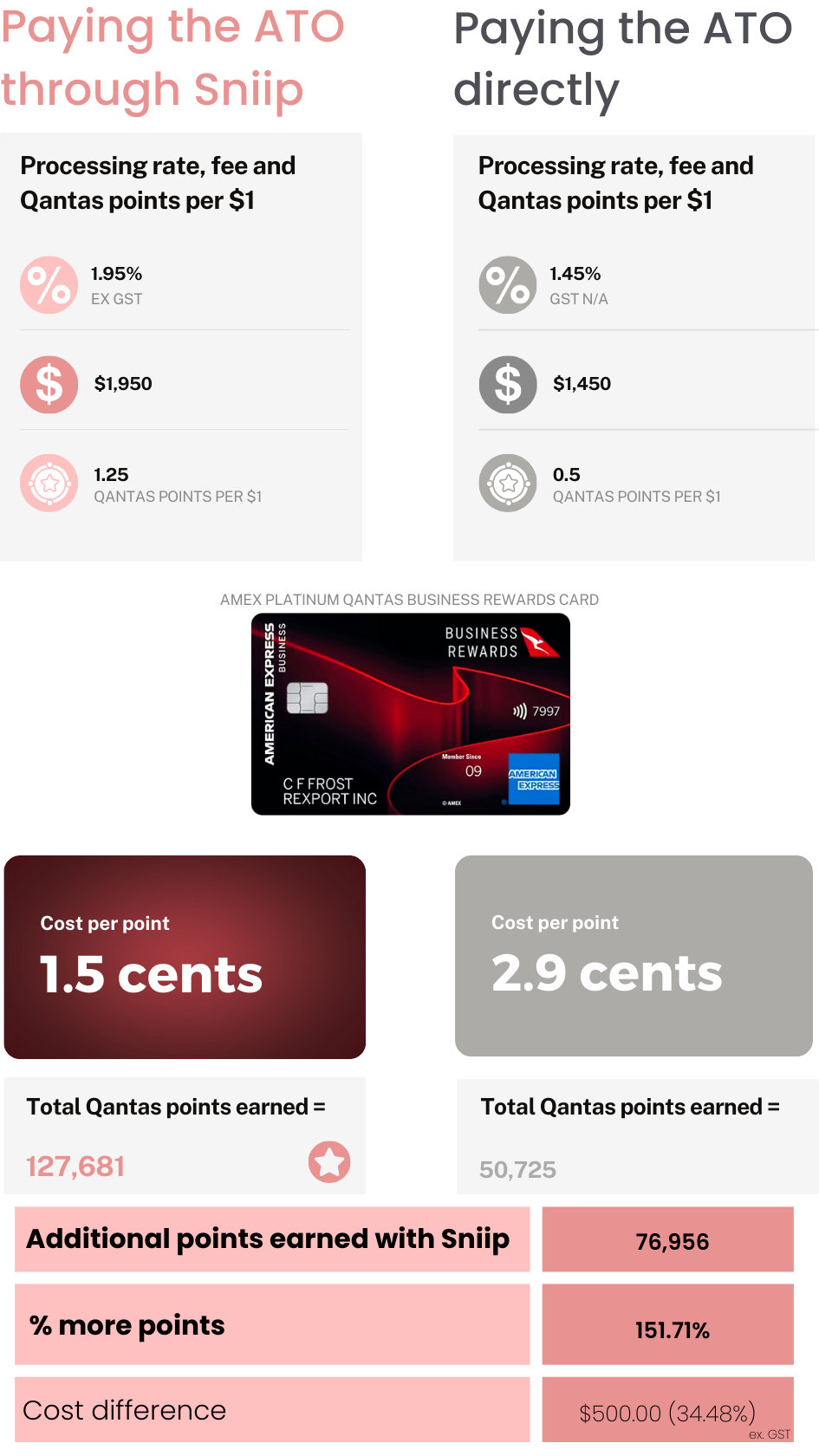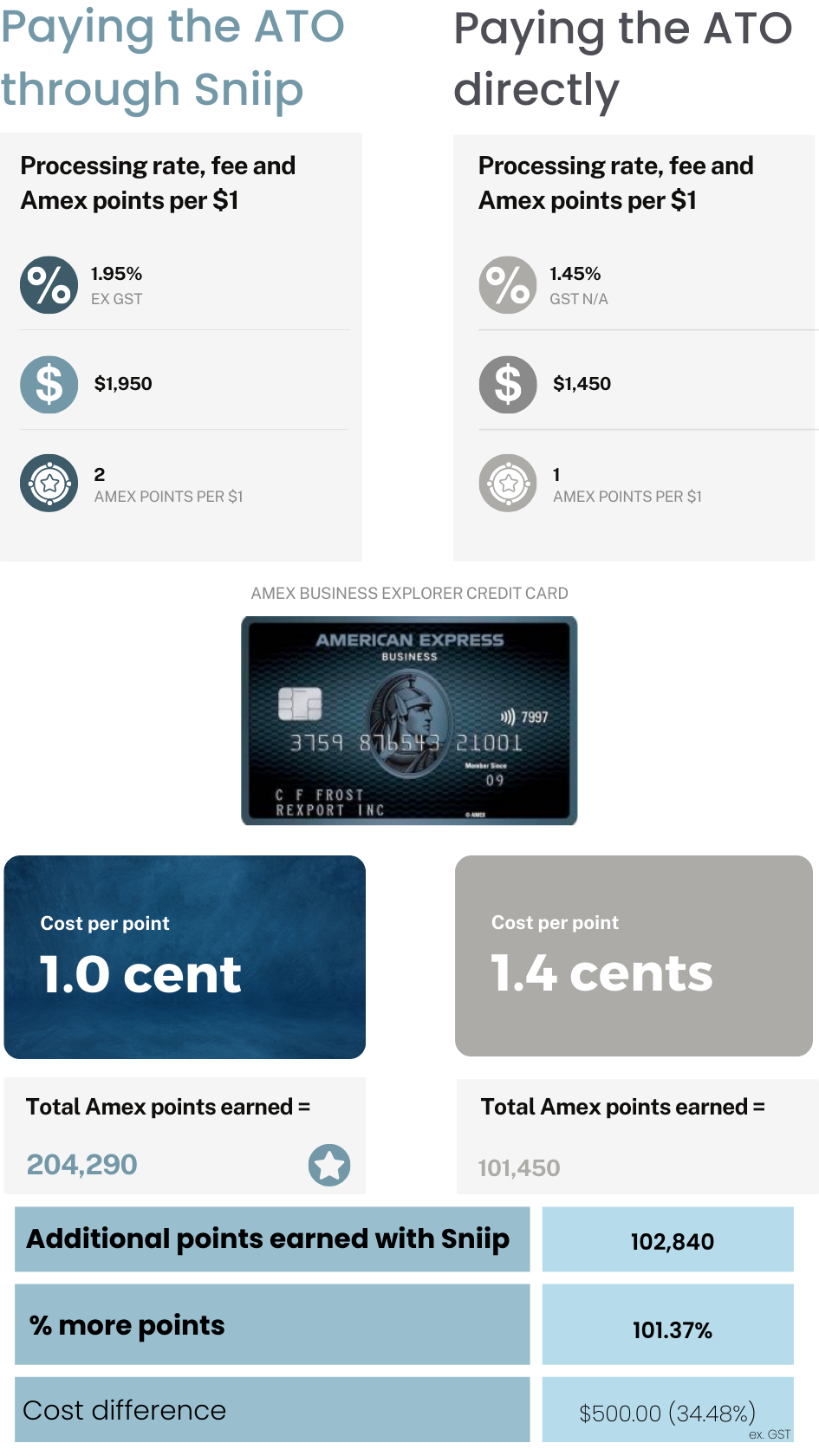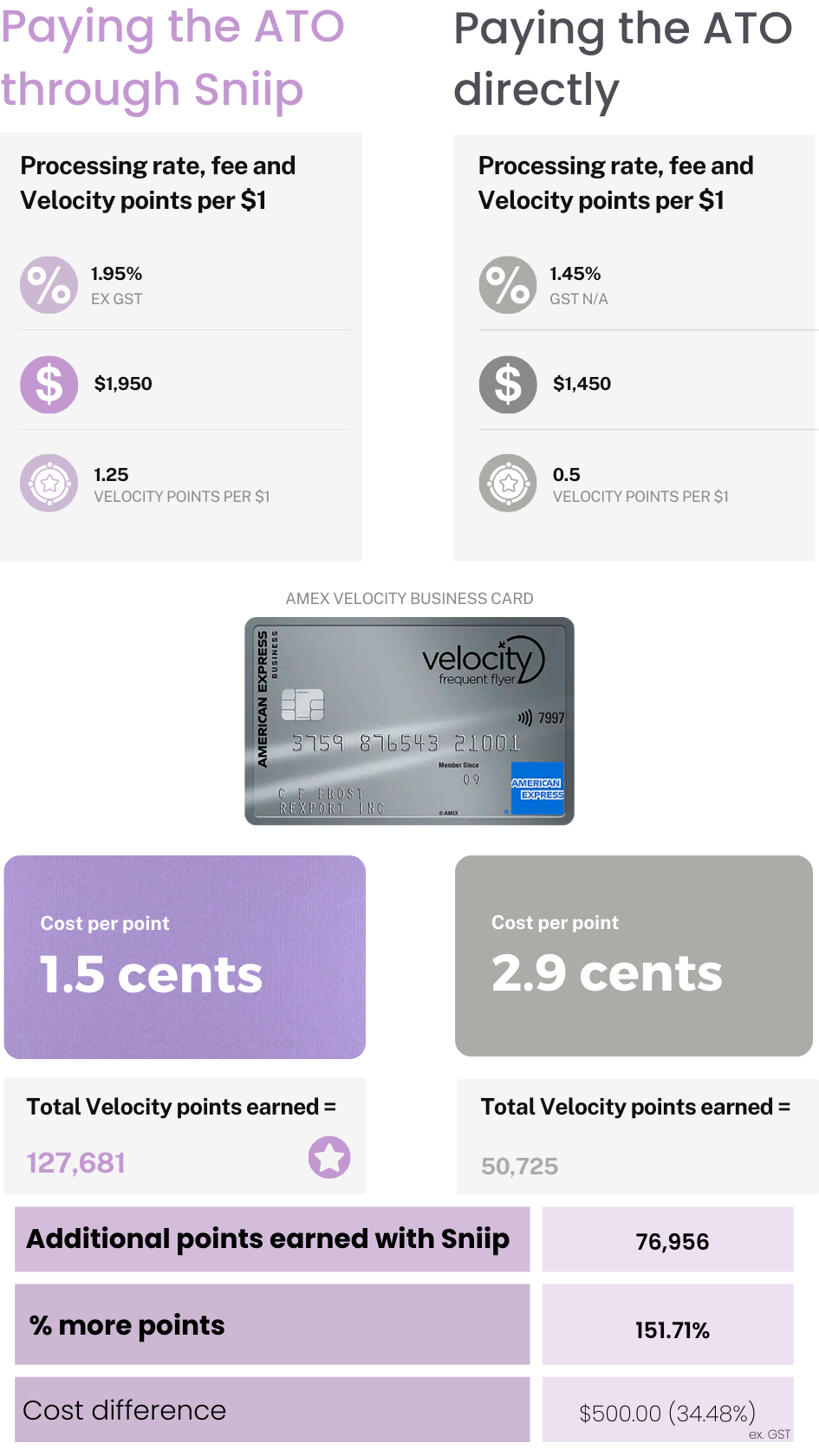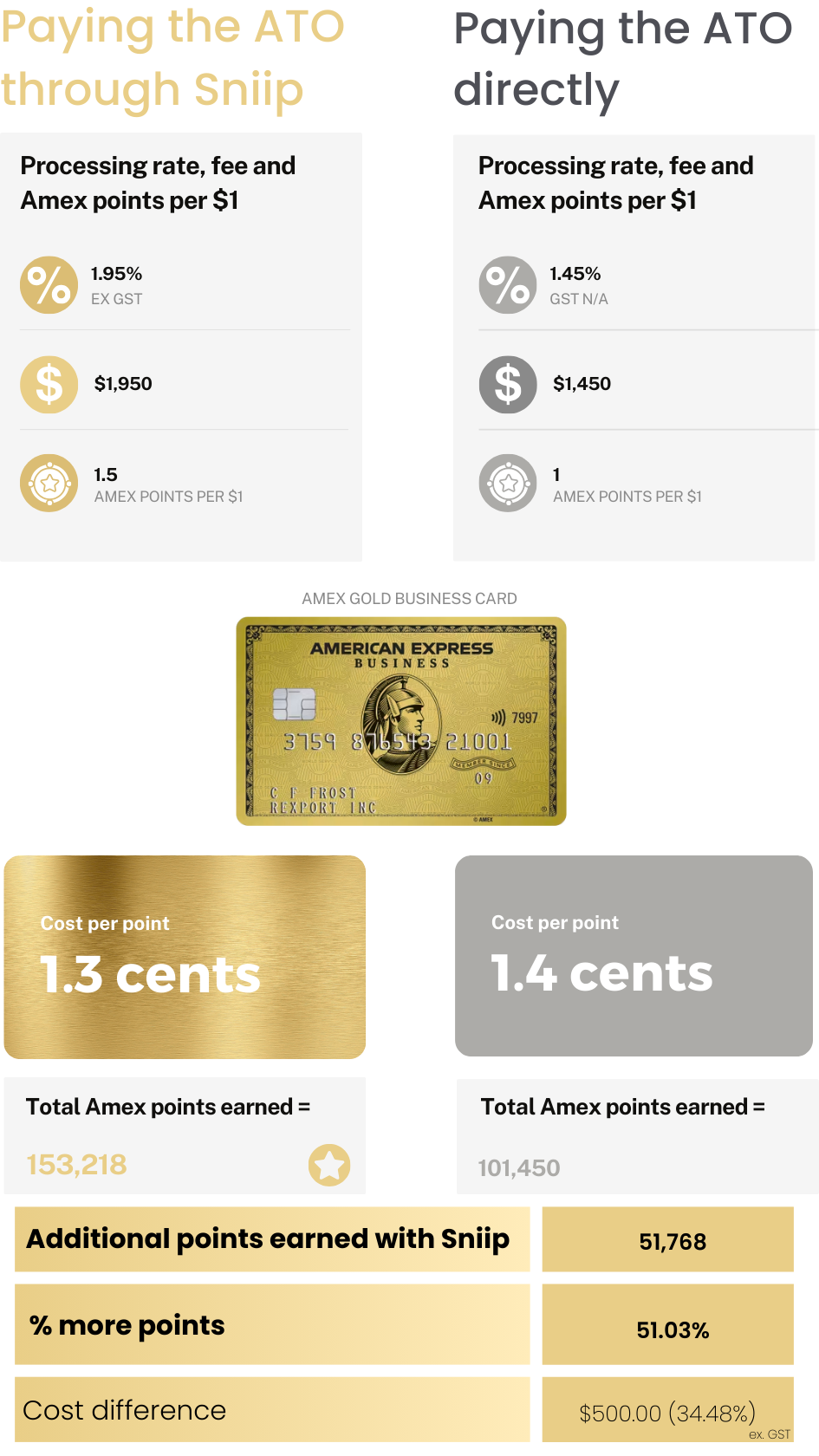 Please note: These calculations are indicative only and Sniip is not providing advice. Use the information provided here as a guide only.
The above calculations are based on a corporate American Express card earning 2.25 points per $1 spent (1 point per $1 spent on government spend).
Please refer to the Amex website for the most accurate information or contact Amex directly.
Cost difference excludes GST.
Cost Effective 🤝 Rewarding
Payment amount
1
1
1
Select your payment method

Velocity Platinum Amex Card

Velocity Platinum Amex Card

Explorer Amex Card

Platinum Amex Card

Qantas Amex Ultimate Card

Qantas Amex Premium Card

David Jones Amex Platinum Card

David Jones Amex Card

Qantas Amex Discovery Card

Velocity Escape Amex Card

Essential Amex Card

Centurion Amex Card

Diners Club International Card

Citi Premier Qantas Credit Card

ANZ Frequent Flyer Black Credit Card

Nab Rewards Visa

Citi Prestige Mastercard
Total points earned# 12,661 Velocity Points Payment amount $10,000 Processing fee (incl GST) $129.00 Total $10,129.00 Assumes points earn based on 1.25 point/s per dollar spent.
*All ATO/superannuation/business payments (personal/business/corporate) are required to be processed at our business rates (tiered from 1.75%) on Personal Amex cards.
This calculator is provided as a guide only, please refer to your credit card provider for the most up-to-date information.
Please note: The above calculator is not an exhaustive list of the credit cards available to use with Sniip. Sniip accepts all payment methods and credit cards, including American Express, Visa, Mastercard, Citibank and Diner's Club cards. Please email customercare@sniip.com if you would like to add a card to the calculator.
Lodgement from: 1 July, 2023
Your tax return covers the income year from 1 July to 30 June. 
Due date: Tuesday, 31 October, 2023 
If you choose to use the services of a registered tax agent, they will generally have special lodgement schedules and can lodge returns for clients later than 31 October. Accordingly, if you are using a registered tax agent, you need to engage them before 31 October.
Tax bill due: 21 November, 2023 
If you lodge your own tax return and it results in a tax bill, payment is due by 21 November.
Business ATO Payments with an Amex
Paying the ATO through Sniip is the best and most rewarding way to pay the ATO.
In particular, you'll earn full Amex points on your entire payment (including the processing fee) + 1 Velocity Point per $10 on all transactions.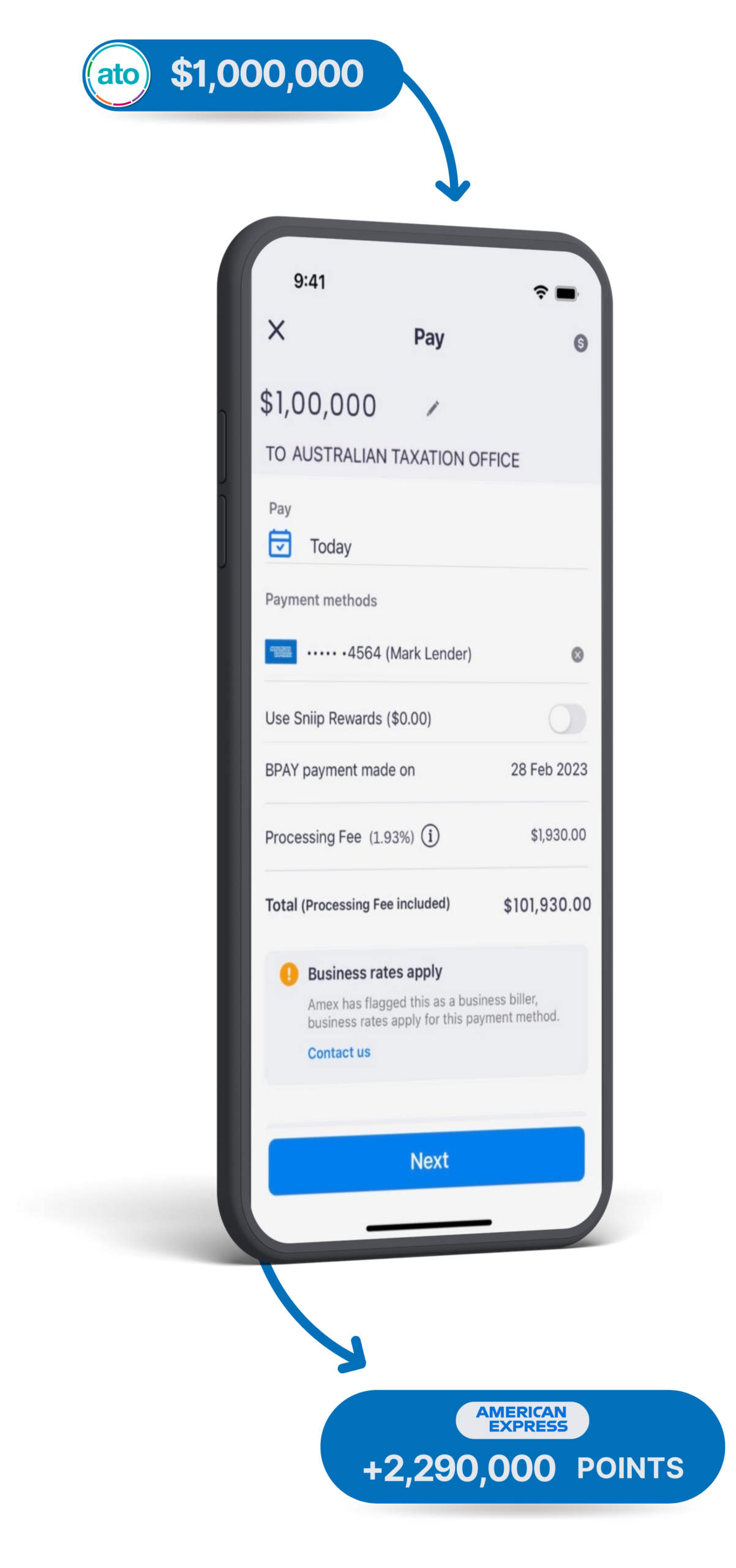 Personal ATO Payments with an Amex
All American Express payments to the ATO (personal/business/corporate) are required to be processed at our business rates – the best fees in market. In detail, you can learn more here.
All things considered, with the ability to earn full Amex points on your entire transaction amount (including the processing fee) + 1 Velocity Point per $10, Sniip remains the most cost effective and rewarding way to make your personal ATO payments. 
Personal - Business - Corporate
Pay one processing fee only. Zero sign up or subscription fees. No hidden costs.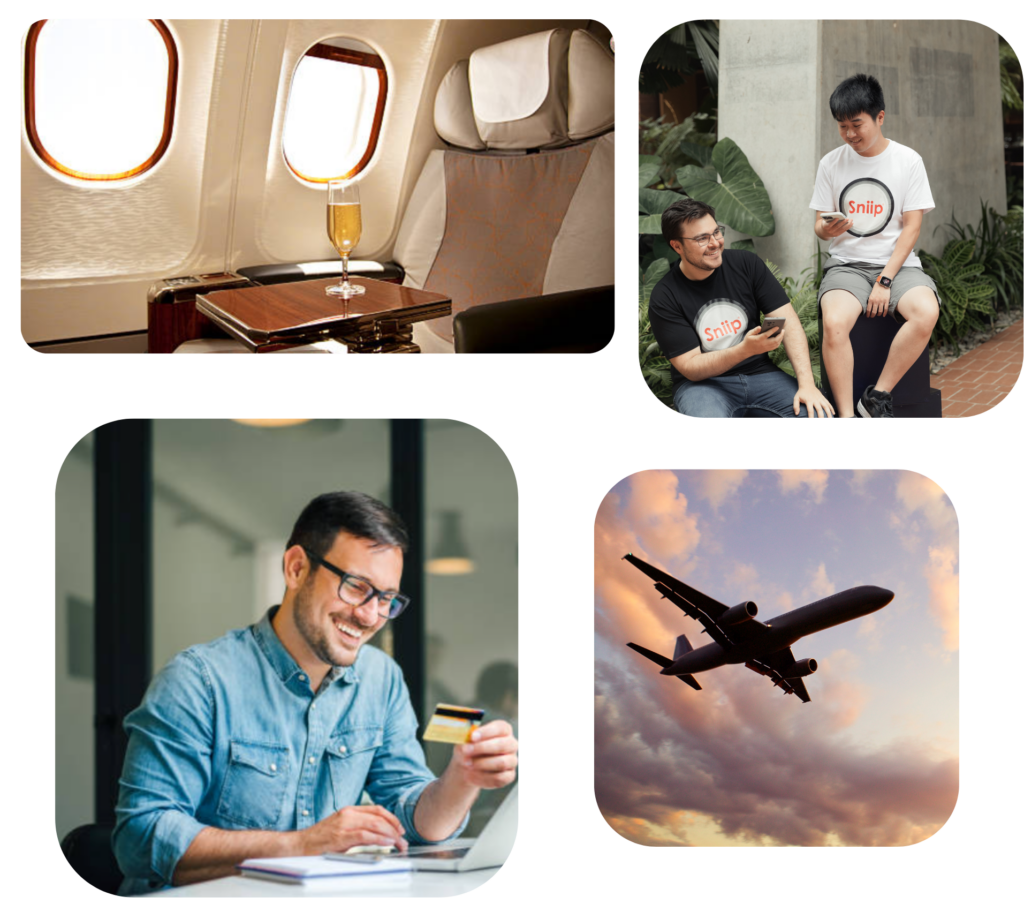 Earn full points... but how?
Sniip processes your payments as a two-legged transaction.
You pay into the Sniip Trust Account
The Sniip Trust Account pays the ATO on your behalf

All transactions are paid into a Sniip trust account and your bill payment is made the same day we receive your funds – we do not hold onto your funds. Thus, the payment that you make to us will appear on your statement as 'Sniip Ltd'.
When you use a rewards credit card, you will earn full points on the first leg of the transaction (payment into the Sniip Trust account). Following this, Sniip will make payments via BPAY on the second leg of the transaction and this utilises the BPAY Scheme.
This process allows you to earn full points on all of your bills.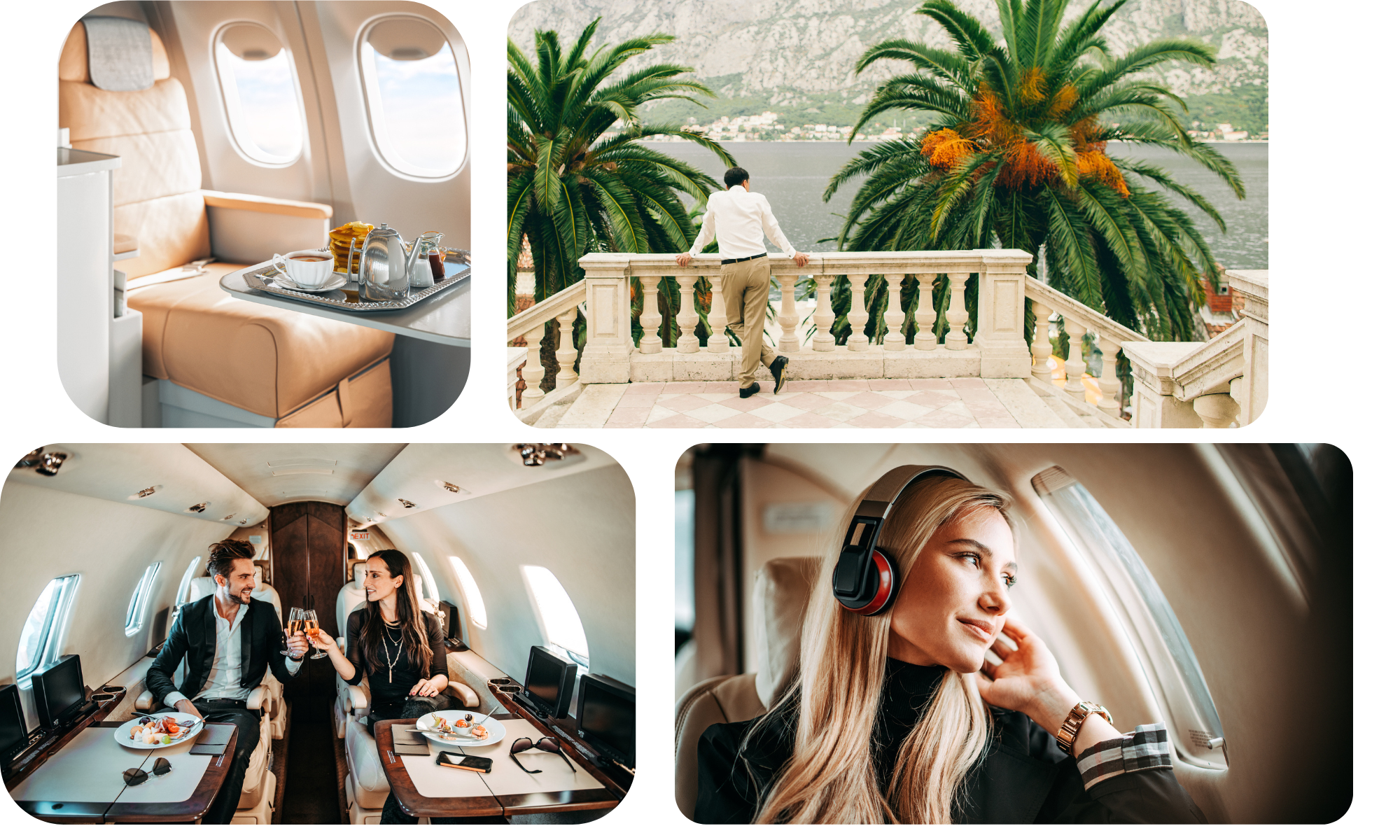 Make your ATO payments more rewarding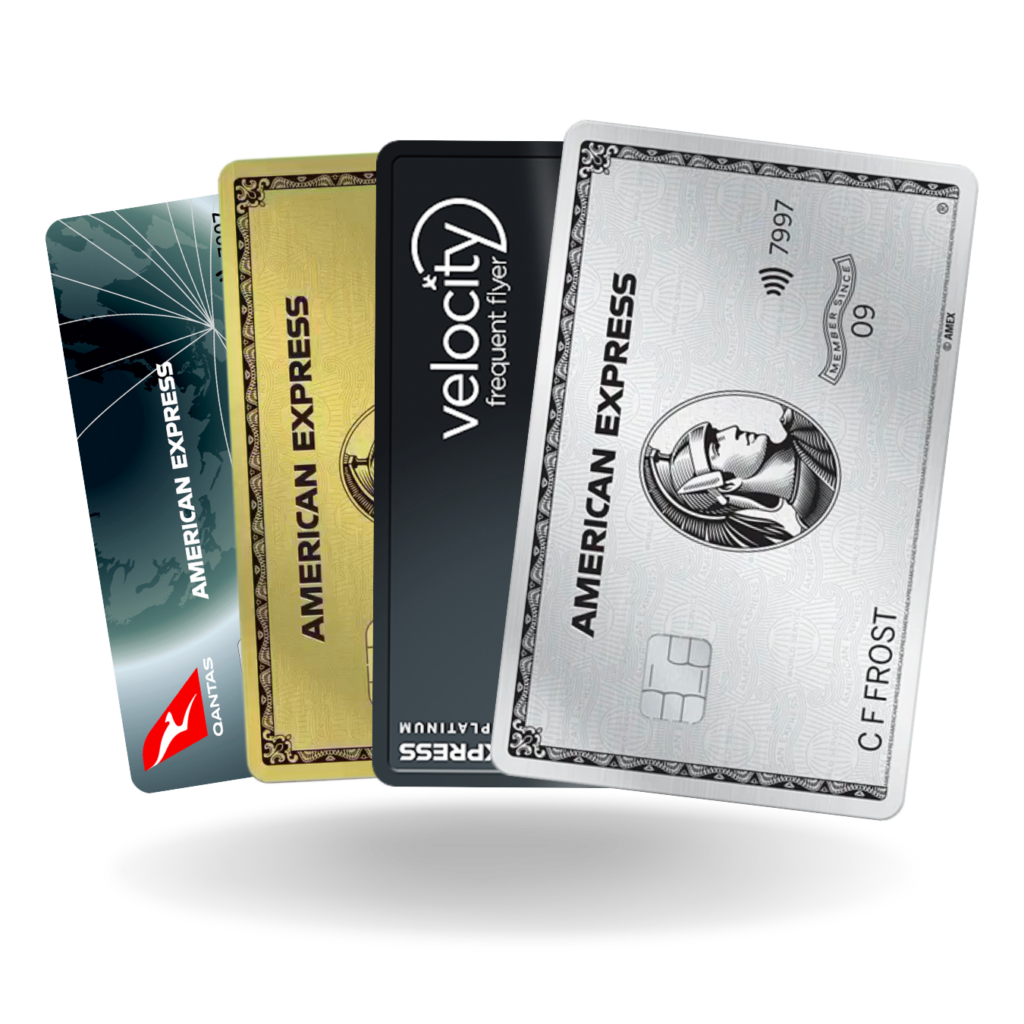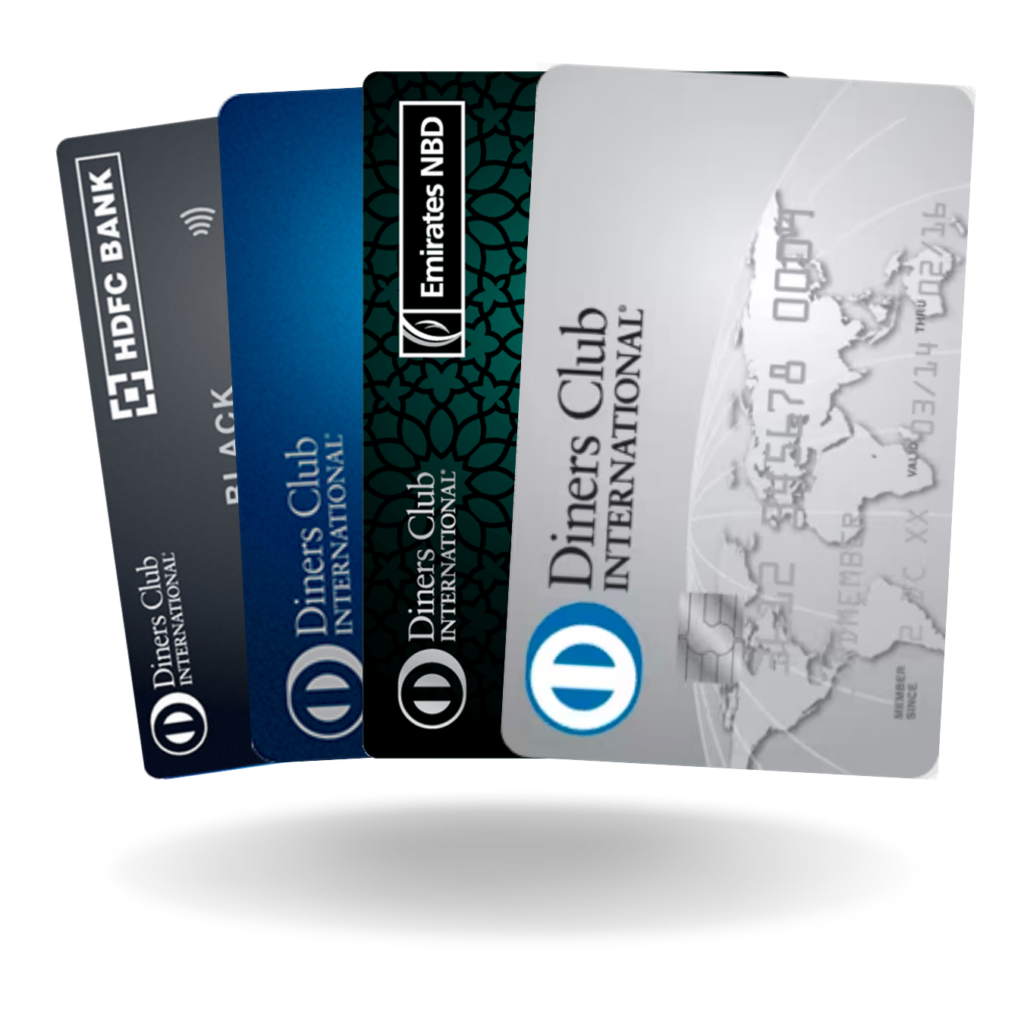 Diners Club International
Do you have a Diners Club International card? Through Sniip, you can earn up to 101,000+ Membership Points on a $100 000 ATO payment.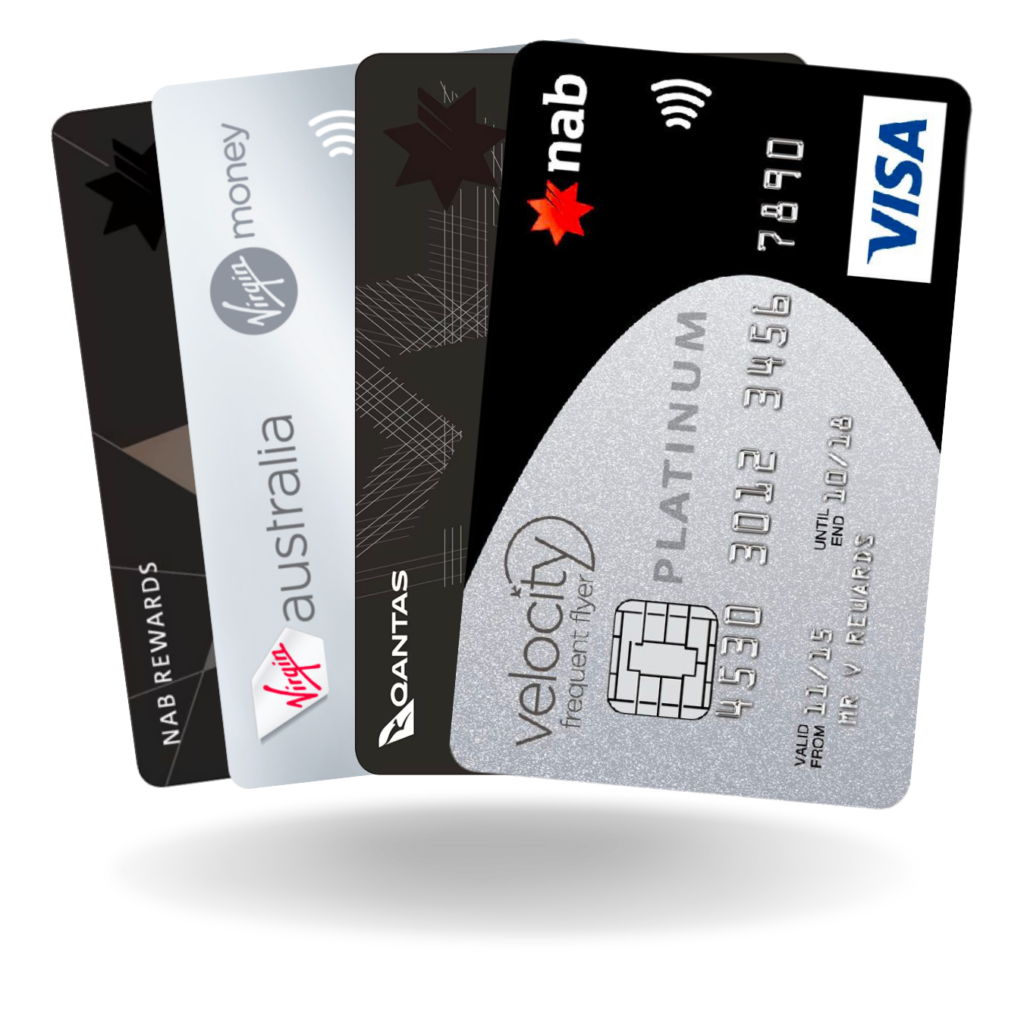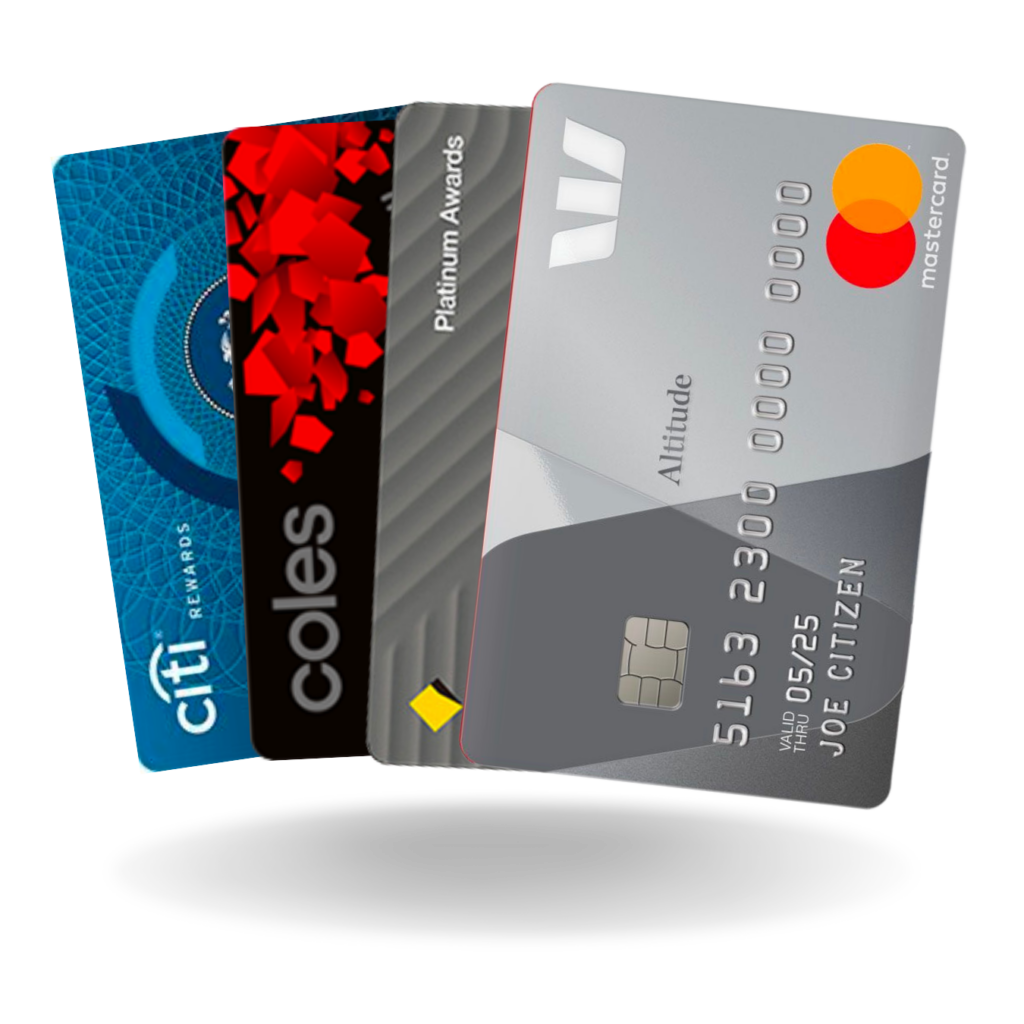 Want to maximise your Mastercard Membership Points? You'll earn up to 101,000+ Membership Points on a $100 000  ATO payment through Sniip. 
Pay the ATO through Sniip
Log into your Sniip account and tap the '+' button in the top right corner to import a bill. Following, there are five ways you can import your bill into the Sniip app. 
Once your bill is imported, locate your bill in the 'To Pay' tab and import it. At this point, you can choose to 'Pay' or 'Schedule' your ATO payment.
If you wish to schedule your payment for a later date, or pay your bill in instalments, select 'Schedule' and follow the prompts. 
On the other hand, to pay your bill now, tap 'Pay', and select the day* you wish to pay your bill and the payment method.
*Please note, funds take 1 (one) business day to land in the Sniip Trust account, so we always recommend setting your payment date to 1-2 business days before your due date.
Tap 'Next'.
Lastly, fill in your CVV number and tap the 'Confirm' button. 
Enter your Sniip pin code as the final security step to make your payment. 
All done! Your ATO bill is on the way to getting paid. 
You can also pay the ATO in partial payments!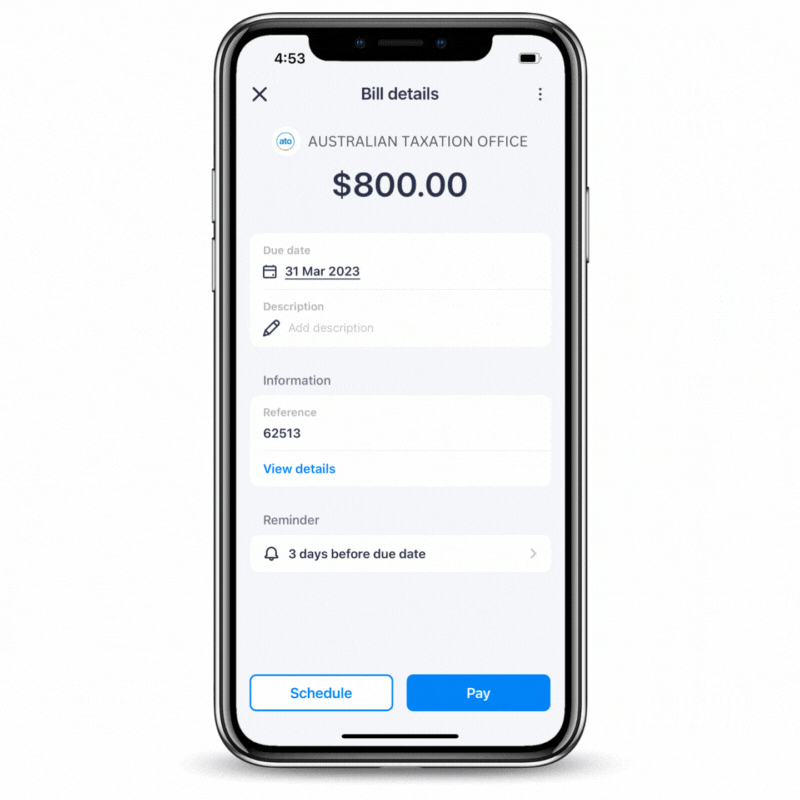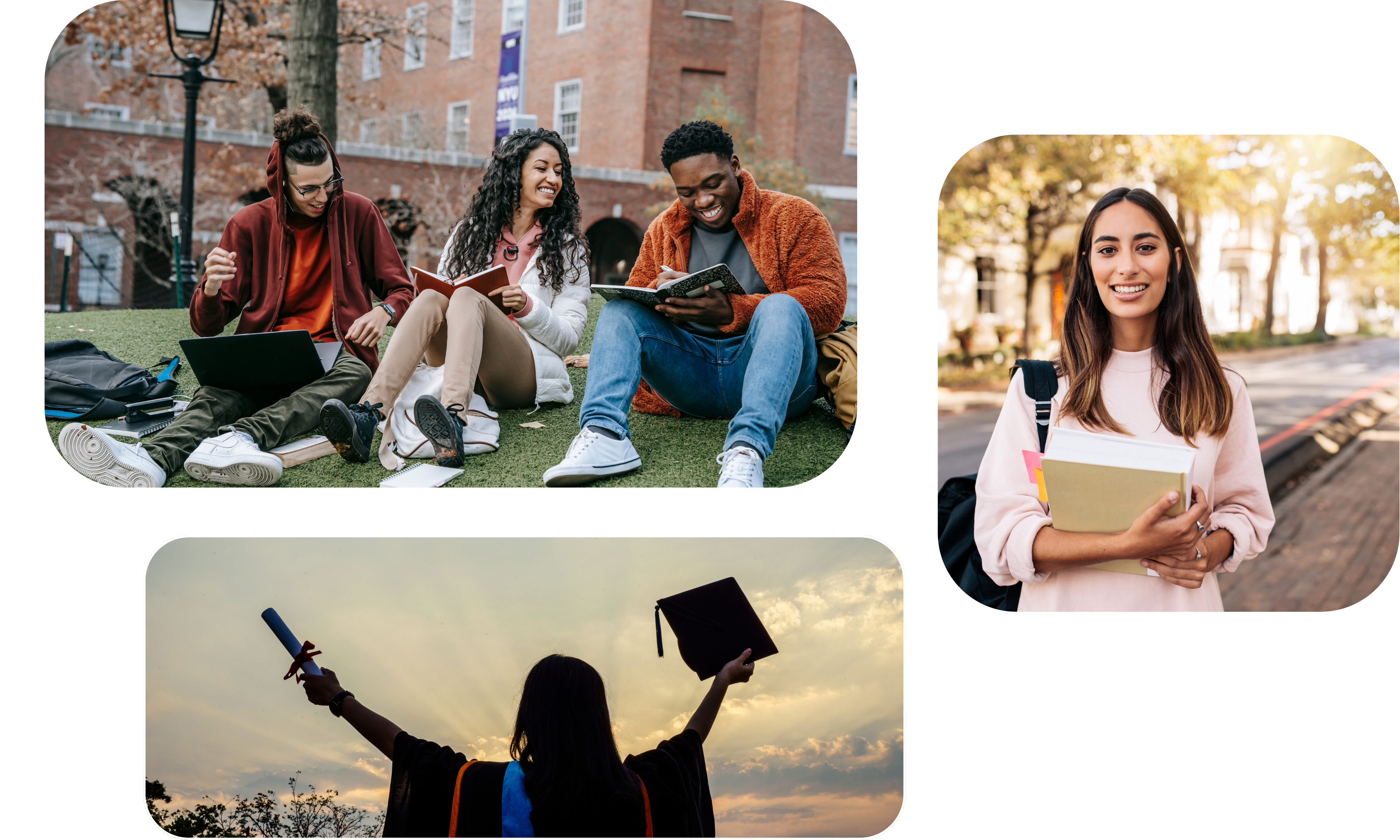 Voluntary Student Loan Repayments
voluntary repayments hecs
for example,
voluntary hecs repayments
to calrify,
hecs voluntary repayment
above all,
hecs debt repayments
therefore,
how to pay off hecs debt early
for instance
indeed even so
instead even though
last first thing to remember
later for fear that
lest for instance
likewise for one thing
markedly for that reason
meanwhile for the most part
moreover for the purpose of
nevertheless for the same reason
nonetheless for this purpose
nor for this reason
notwithstanding from time to time
obviously given that
occasionally given these points
otherwise important to realize
once once in a while
overall in a word
particularly in addition
presently in another case
previously in any case
rather in any event
regardless in brief
secondly in case
shortly in conclusion
significantly in contrast
similarly in detail
simultaneously in due time
since in effect
so in either case
soon in essence
specifically in fact
still in general
straightaway in light of
subsequently in like fashion
surely in like manner
surprisingly in order that
thereafter in particular
thereupon in short
thirdly in similar fashion
though in spite of
thus in sum
till in summary
undeniably in that case
undoubtedly in the event that
unless in the final analysis
unlike in the first place
unquestionably in the fourth place
until in the hope that
when in the light of
whenever in the long run
in the second place
whereas in the meantime
in this case
while in the same fashion
in the same way
most compelling evidence
must be remembered
not to mention
now that
of course
on account of
only if
owing to
point often overlooked
prior to
therefore
however
above all
in this case
following
therefore
but
Voluntary Student Loan Repayments
With increasing inflation, it is ideal to make early voluntary contributions to your HECS/HELP debt if you can afford to do so. In particular, the expected increase in indexation by over 7% from 1 June 2023 will sky rocket the amount of interest students and graduates have to pay on their loans.  
With this in mind, Sniip allows you to easily and conveniently pay the ATO using any payment method you wish, and credit cards earn uncapped points. For example, through Sniip, you can set up recurring payments, or complete a payment in partial payments. 
Join the Sniip Community!
Discover convenience, connection and community as you navigate bill payments effortlessly with Sniip. Join us today and be a part of something that'll make you wonder why you ever paid bills differently!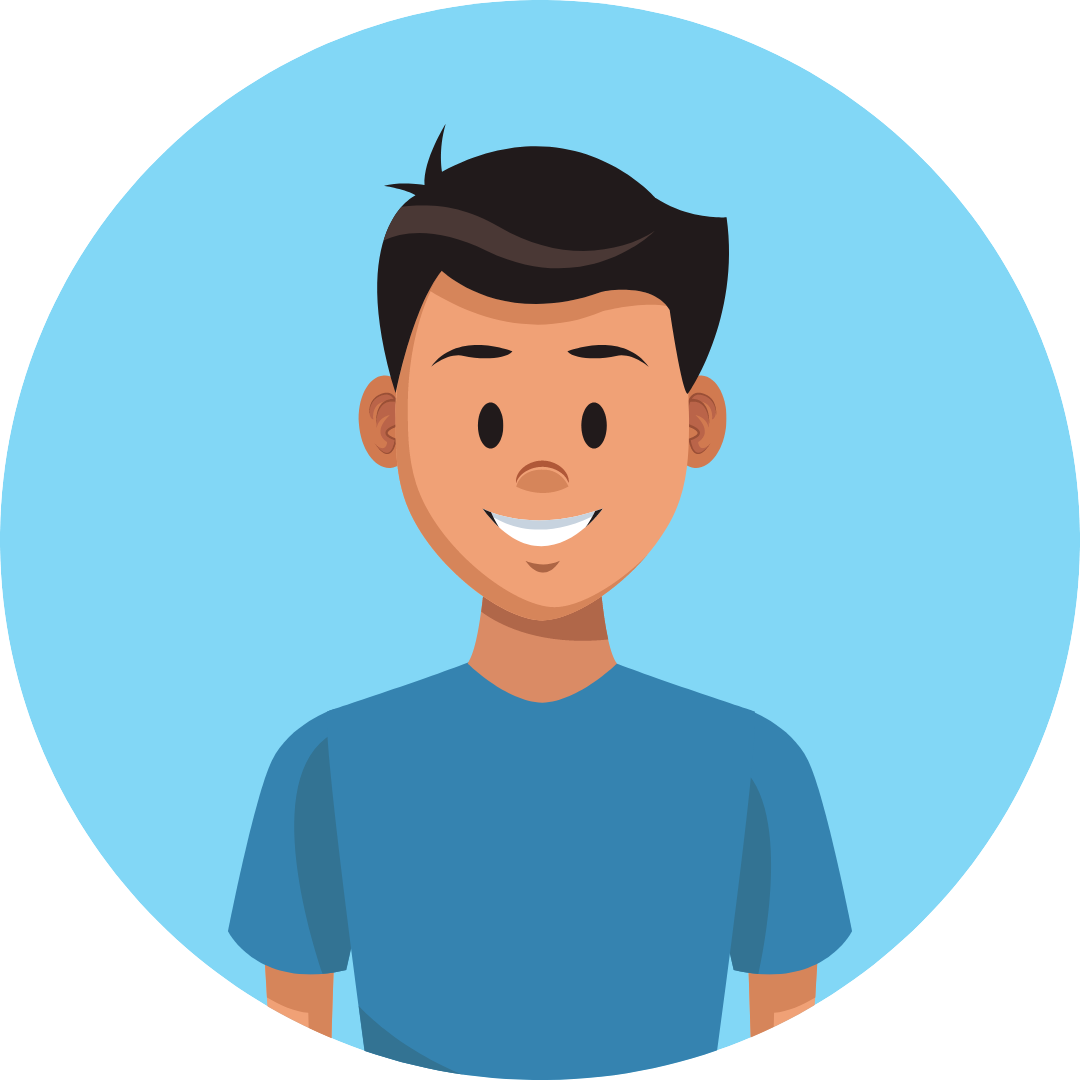 Chris
Sniip is great. For example, I use the app to pay for all my rates and BPAY bills like tax payments. For the most part, it takes me no time at all to pay ATO tax bills and stores all the information for me. Then, it sends me a receipt for the payment and processing fee which I also get to claim on my tax. I've never had an issue and just positive experiences. Summing up, best fintech I have come across.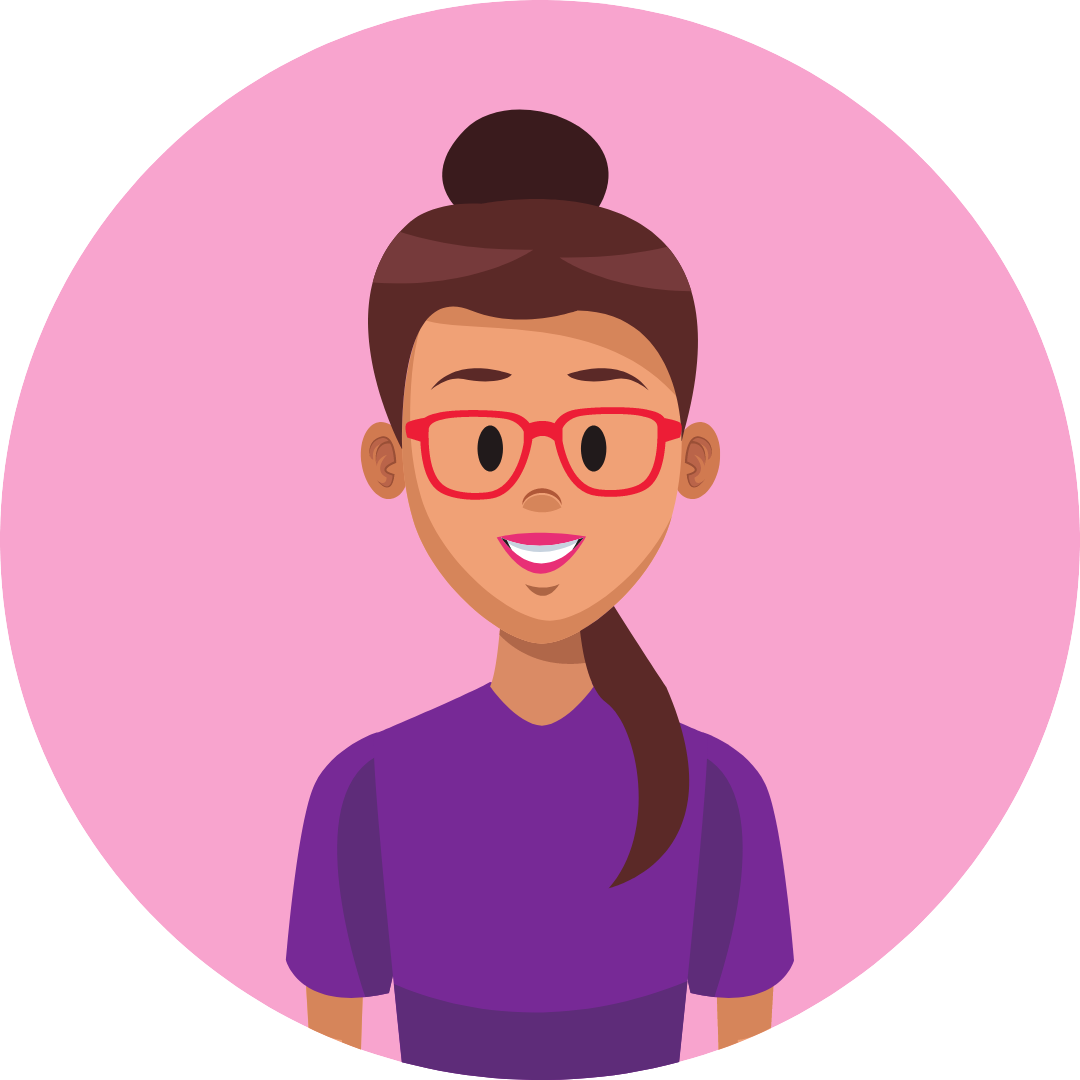 Mikb_oz
I've been annoyed that I'd pay all these bills with my card but couldn't get any AMEX points, you solved it! Love it! Given that, I would recommend to anyone looking to maximise their points earning.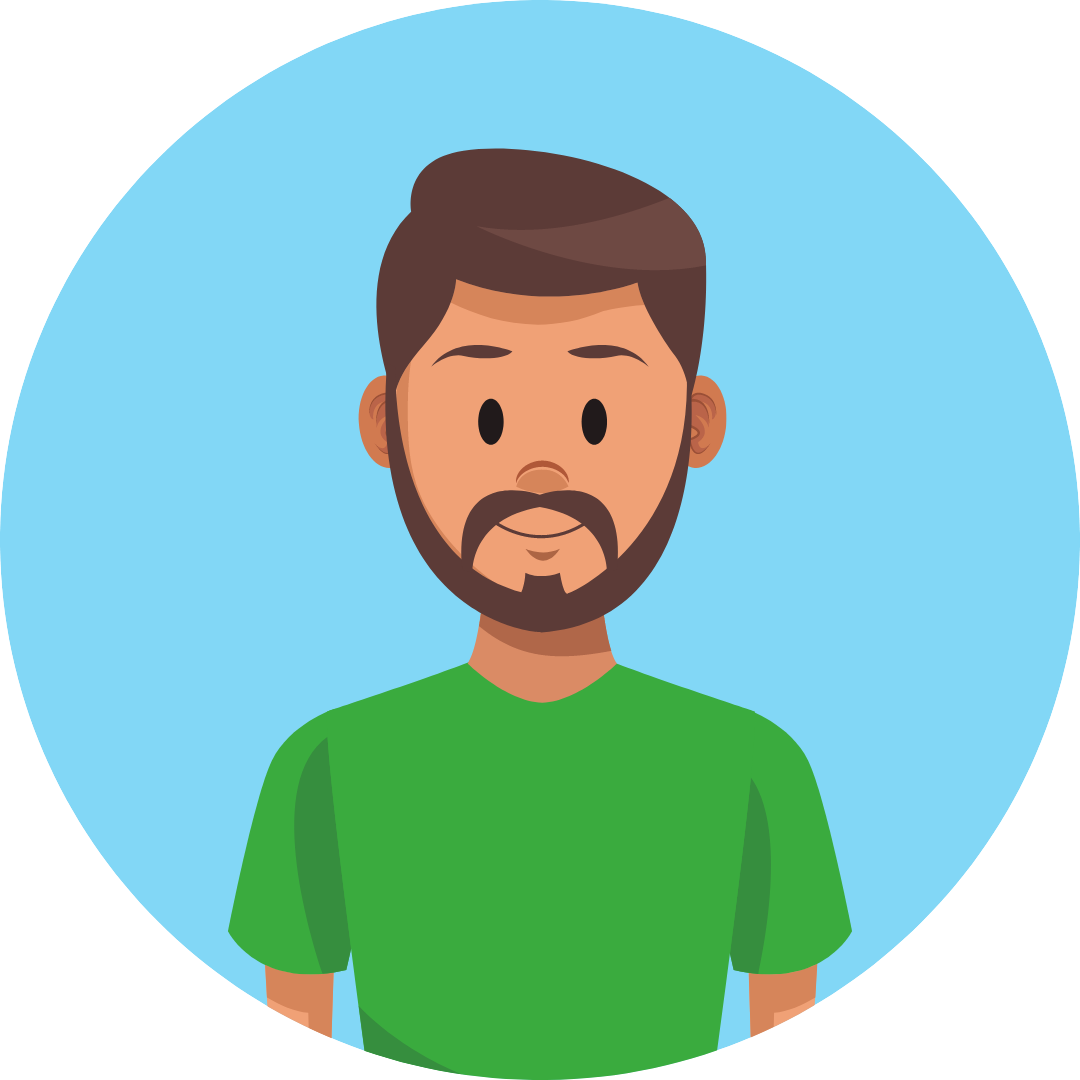 Mr Oman
Love this app. Specifically, it makes earning air miles with Amex so much easier.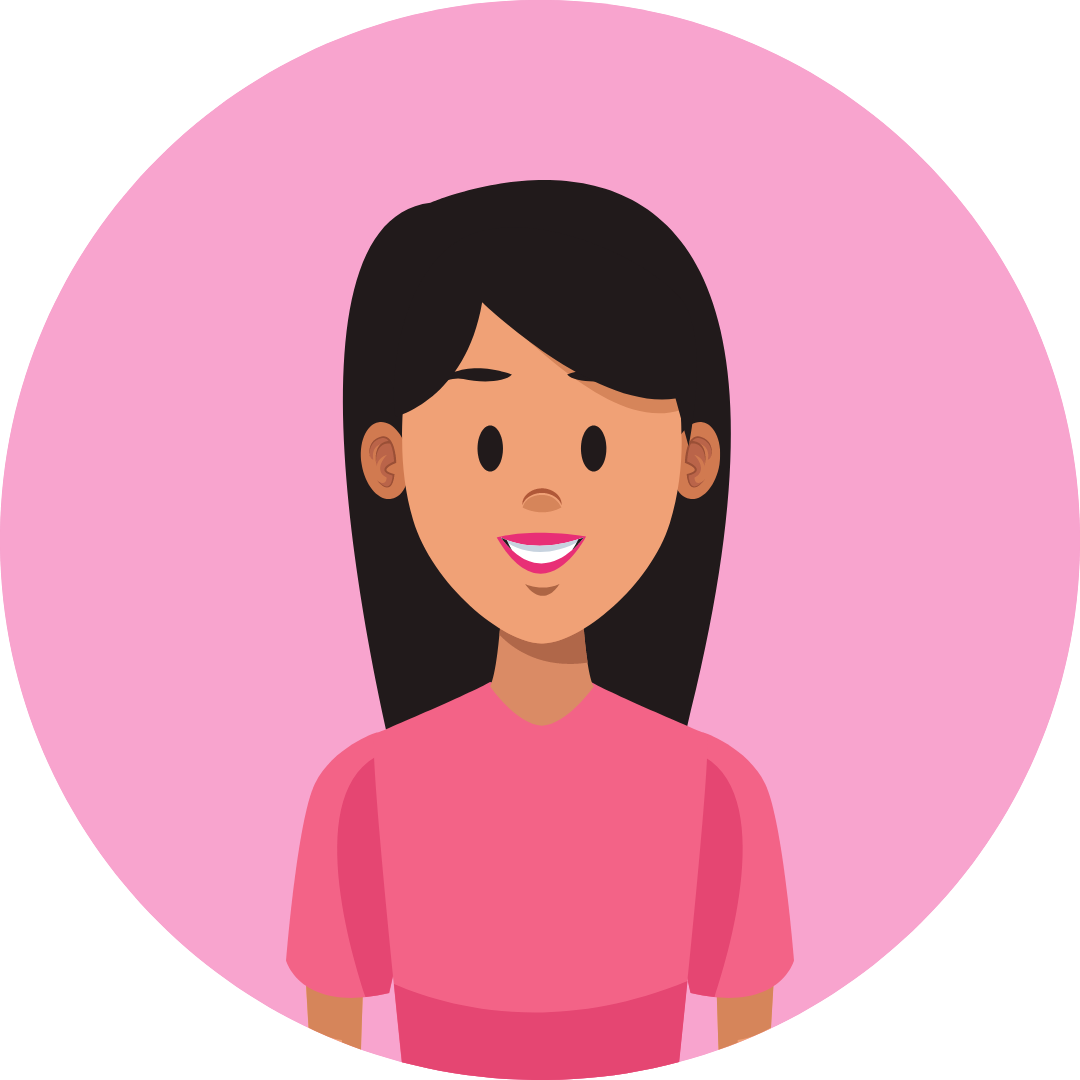 Sparms
I use Sniip to pay my rates and water bills. For example, my account details are stored there so it's just a matter of opening the app & scanning the barcode and everything is loaded so I just have to click on pay. At this point, I don't use all the extra features because I generally pay the bills as I get them, but you can set up reminders etc. In addition, copies are automatically placed in your history.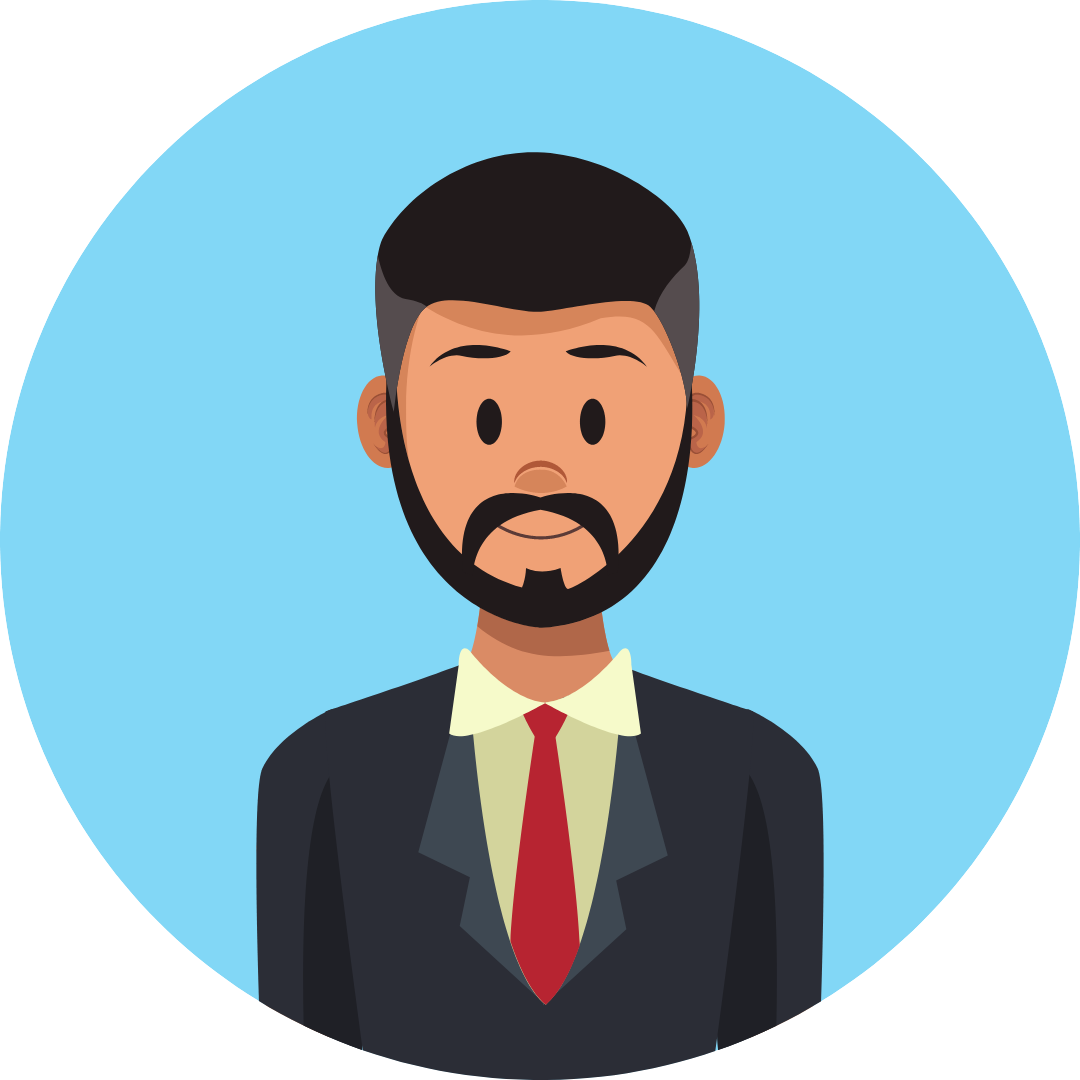 Asifidtelya
It's fast and easy which is great when you're busy running a business.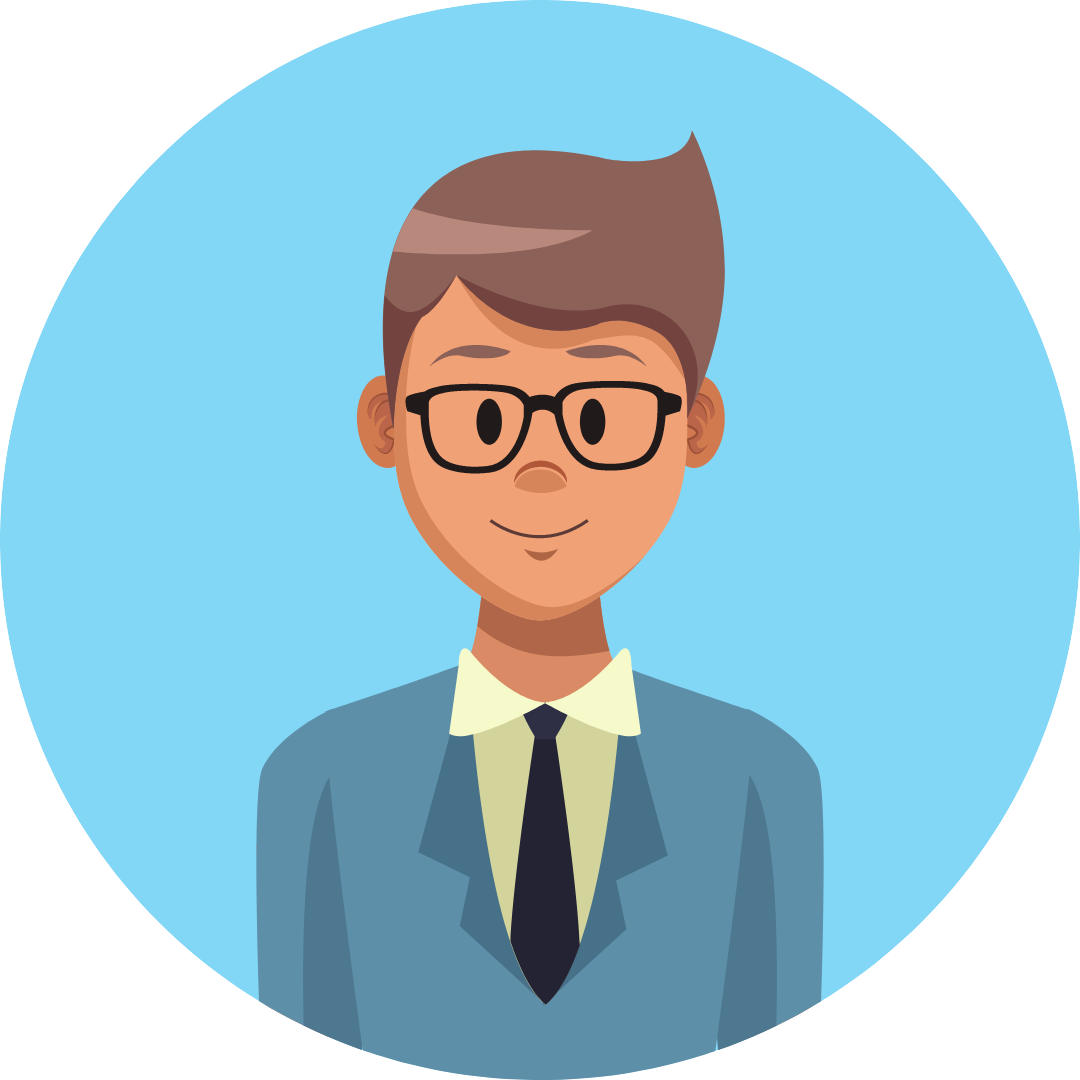 Wordlegod
Called and spoke with Jennifer and she was the most helpful of any customer support person I have gotten to talk with. Makes me happy to use the app again and again!!
Book a demo with our friendly Support Squad and get all of your questions answered!
although analogous to
altogether although this may be true
another another key point
basically as a matter of fact
because as a result
before as an illustration
besides as can be seen
but as has been noted
certainly as I have noted
chiefly as I have said
Therefore, as a result, so, consequently, but, however, on the other hand