The payment app, Sniip, has disrupted the Australian digital payments world by providing a new way for people to pay and manage their personal bills. 
Since its inception, Sniip has continued to expand its offering, partnering with the likes of BPAY, American Express, Apple Pay and Google Pay to create a seamless bill payment experience. 
Keep reading to find out all you need to know about Sniip.
Sniip is a payment platform that allows you to pay personal and household expenses with any debit card, credit card or bank account, all through one easy app.

Sniip has created the easiest and fastest way to pay bills. As an accredited BPAY Payment Institution Member (PIM), Sniip has reinvented the way Australians pay and manage bills, completely transforming the bill-payment landscape. 
Sniip, is a Bill Payment Service Provider, and as a BPAY Payer Institution Member (PIM), it allows you to pay approximately 60,000+ BPAY billers with any payment method. 
Using a two-legged transaction process, Sniip allows you to pay your personal bills with any credit or debit card. The process is simple: Sniip receives the payment for the bill from a user and once these funds have cleared, Sniip processes that payment on your behalf via BPAY. 
In other words, Sniip aggregates all of your payment credentials into one central platform and allows you to choose the way you pay, irrespective of what the biller allows.
For example, Jane has a $50k personal tax bill to pay. She uses her American Express Velocity Platinum Card and pays $375 per annum for the card fee. She gets 1.25 Velocity points per $1 spent on purchases. 
When she pays the ATO with Sniip, she still earns 1.25 points per $1 spent, unlike paying the ATO directly where she would earn 0.5 points per $1 spent. When Jane pays with Sniip, she earns 63,437 Velocity points, which is enough to take her and her husband to Melbourne flying business class return!
As a bill management system
Sniip can help you to manage and organise all your bill payments. 
At a glance, the app dashboard allows you to see a summary of your bills and payments, allowing you to quickly keep track of upcoming bills and payments. 
You can set up auto-pay direct debit for your recurring bills, and have a summary of all your upcoming payments. 
Plus, you can set up auto-bill import, which allows any bills sent to your email account to automatically be received into the app, ready for payment. 
How much does Sniip cost?
Sniip is free to download from the Apple App Store or the Google Play store and there are no subscription fees! Transactions made with a credit card will incur a processing fee of 1.5% for Visa and Mastercard, with all payments earning full points. Personal American Express payments (excluding to the ATO and superannuation) receive a processing fee of 1.29%. You can learn more about payments to the ATO using an Amex here. Check out the complete list of processing fees, here. 
Sniip currently offers the best credit card rate for personal bill payments when compared to other bill-payment platforms.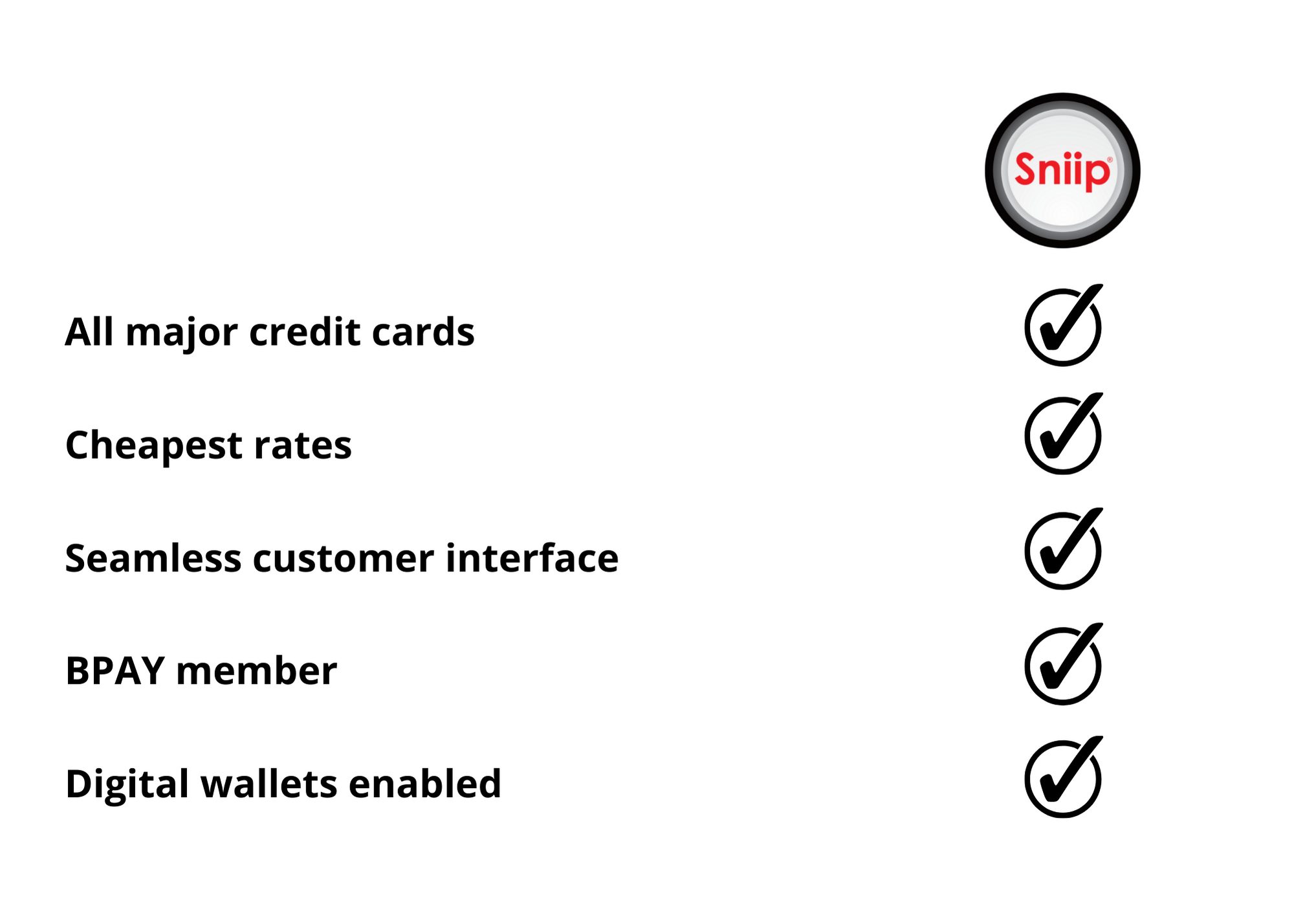 Sniip is transforming the way you pay your personal and household bills. By paying your bills through Sniip, you can maximise your cash flow and unlock your full points-earning potential. 
Even better, Sniip provides a seamless payment experience, even allowing you to pay with Apple Pay or Google Pay, giving you back your valuable time to spend on more pleasant things in life than paying bills!